Girls Flag Football
Final 2017 CFOA Flag Football Playoff Crews
Crew 1
R - Kevin Bowersox
LJ - Daniel Dobrosielski
FJ - Samantha Fritzell
BJ - Charles Baumann
Crew 2
R - Jonathan McNamara
LJ - Melvin Jones
FJ - Joshua Bernhard
BJ - Frederick Smart
Crew 3
R - Kerry Jackson
LJ - Jason Carroll
FJ - Rodney Clevenger
BJ - Jemal Taylor
Crew 4
R - Brent Haskill
LJ - Timothy Crim
FJ - Amanda Hall
BJ - Vincent Swanigan
Crew 5
R- Jeffery Pon
LJ - Vernon Law
FJ - Henry Hamm
BJ - Dale Keneipp
Flag Football Officials Information
Dear CFOA Flag Football Officials,
As the season has begun this past week, I want to remind you of several important things as we have gotten started. The official uniform is posted below.
Please also remember we are out there for the student athletes. If coaches want to play 12 minute quarters for their JV games, it is their right to do so. Some coaches want 10 and some want 12. Do not argue with the coach if they ask you for 12 minute quarters in a JV game.
Finally, Brent Haskill was kind enough to share the presentation that he and Daniel Dobrosielski did an amazing job of presenting at our Flag Football Field Clinic. Here is the link if you were not there or have any questions, I'd suggest going back and looking at the presentation.
The presentation will be sent to the county AD's and they may choose to send it to their coaches. Please make sure you know what you are supposed to be doing out there.
Central Florida Officials Association : cfoa.com
Everything you want to know about Central Florida Sports Officials Association is found online here.
Thank you and have a great season,
Kevin Bowersox
CFOA Flag Football Vice - President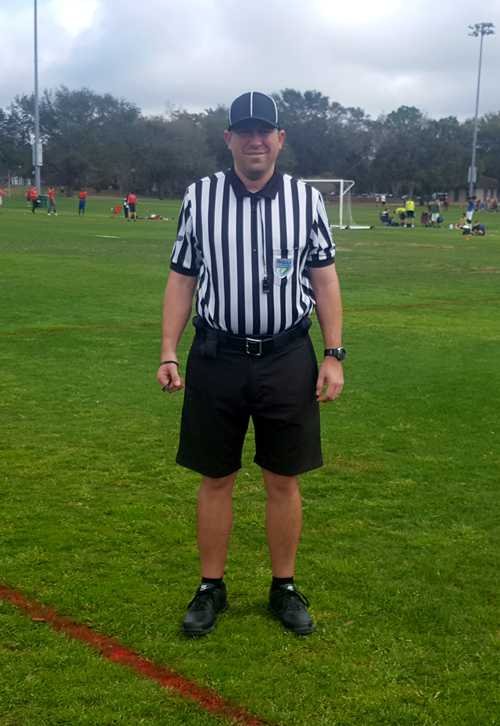 The CFOA Flag Football Uniform is as follows:
Black and White Referee Shirt with a Black Collar and FHSAA Patch on the Pocket and American Flag on the Left Sleeve
All Black Coaches shorts with belt loops
Black and White Piped Hat
All Black Belt (leather)
Black Socks
Black Shoes
Penalty Flag (1 or 2)
Black Bean Bag
Two different color discs or cones (Orange - offense, Yellow - defense)
Game Card (Score, Unsportsmanlike Penalties)
Thanks,
Kevin Bowersox
Dear CFOA Flag Football Officials,
If you have not yet registered for Flag Football with the state and CFOA please do so as soon as possible. The deadline to register for flag football is 2/27/17. We will have a meeting at St. Cloud High School on Saturday, March 4th @ 9:00am. The schedule for this date is 9:00am - 10:00am classroom session, working scrimmages 10:30am to 11:30am JV game, 11:30 to 12:30pm Varsity game with lunch being served immediately following the scrimmages at 12:45pm.
There is NO Flag Football rules test for this season. All NEW members will be required to come to the meeting in order to be evaluated by our veteran Flag Football officials. IF you need/want your books before the meeting on Saturday, March 4th, you can contact Roland Taylor 407-855-3035 (Home) 407-701-0563 (Cellular).
After talking to several associations, we have determined that they have an officials dress code for flag football. This year everyone will be required to wear the SAME uniform as it looks more professional.
http://www.honigs.com/
http://honigs.com/sport/football/knickers-shorts.html
The uniform WILL BE as follows:
collared black and white referee shirt
black coaches shorts (Honig's has them)
black and white piped football hat
black socks
black belt (Honig's has this)
mostly black shoes/cleats
penalty flag (1 or 2)
black bean bag
two different color discs or cones (orange - offense, yellow - defense)
game card (score, unsportsmanlike penalties)
Important Dates
Preseason classic tournaments (Week 36) – March 6-11
First regular season playing date (Week 38) – March 13
Last district playing date (Week 43) – April 22
State entry list due (Week 44) – April 24
Last regular season playing date (Week 44) – April 29
2017 Florida High School Flag Football State Championships
District Tournaments
When: Monday, May 1 - Thursday, May 4, 2017
Regional Tournaments
When:
Regional tournament semifinals on Friday, May 12, 2017
Regional tournament finals on Tuesday, May 16, 2017
Florida High School Flag Football State Championships
When: Friday, May 19 - Saturday, May 20, 2017
Where: TBD
Schedule:
Friday, May 19:
Saturday, May 20:
1A/2A State Championships

Thank you,
Kevin Bowersox
CFOA Flag Football Vice - President
Previous Flag Football Announcements
FHSAA Important Dates for Registration and Test Dates for 2016-17
BA=baseball; BB=basketball; FB=football; FFB=flag football; LC=lacrosse; SB=softball; SC=soccer; SW=swimming & diving; TR=track & field; VB=volleyball; WP=water polo; WR=wrestling
2016-17 Registration Deadlines
Season

Sports

Initial Deadline

Last Date
to Register

FALL

VB, SW
FB

8/18
8/18

9/8
9/10

WINTER

SC, WR
BB

9/30
9/30

11/10
11/16

SPRING

SB
BA
LX, TR, WP, FFB

1/3
1/3
1/3

2/22
2/22
2/27
2016-17 Rules Exam Schedule
Sport

Exam
75 minutes
50 questions

Make-up Exam
75 minutes
50 questions

VB, SW
FB

8/08 – 8/17
8/17 – 8/26

9/02 – 9/8
9/04 – 9/10

SC
BB, WR

10/11 – 10/20
10/24 – 11/02

11/04 – 11/10
11/10 – 11/16

SB
BA
LX, TR, WP, FFB

1/11 – 1/20
1/21 – 2/01
2/06 – 2/15

2/16 – 2/22
2/16 – 2/22
2/21 – 2/27
Some answers to frequently asked questions:
The CFOA covers ~ 21 schools in Central Florida (Orange and Osceola County)
Games are typically played Monday through Friday in JV/Varsity doubleheaders
Games are played under the National Intramural-Recreational Sports Association (NIRSA) Flag Football rules, with slight FHSAA modifications on equipment. Officials must have a thorough understanding of rules and mechanics as they are followed strictly.
View older news