Central Florida Officials Association Girls Flag Football Information
CFOA Flag Football Playoff crews
| | |
| --- | --- |
| Crew 1 | First and Last Name |
| Referee | Kevin Bowersox |
| Line Judge | Kerry Jackson |
| Backjudge | Charles Baumann |
| Fieldjudge | Jason Vinson |
| Crew 2 | First and Last Name |
| Referee | Emily Banister |
| Line Judge | Robert Bruner |
| Backjudge | Henry Hamm |
| Fieldjudge | Joshua Bernhard |
| Crew 3 | First and Last Name |
| Referee | Tanvir Hossain |
| Line Judge | Michael Totten |
| Backjudge | Dale Keneipp |
| Fieldjudge | Frederick Smart |
| Crew 4 | First and Last Name |
| Referee | Charity Haren |
| Line Judge | Brett Seelig |
| Backjudge | Melvin Jones |
| Fieldjudge | Jemal Taylor |
| Crew 5 | First and Last Name |
| Referee | Tim Crim |
| Line Judge | Elaine Dean |
| Backjudge | Jason Carroll |
| Fieldjudge | Brandon Ellison |
| Crew 6 | First and Last Name |
| Referee | Andrew Hechel |
| Line Judge | Chad Borgelin |
| Backjudge | Michael Gothelf |
| Fieldjudge | A. J. Thomas |
Photo Update - Flag Football Officials of the Year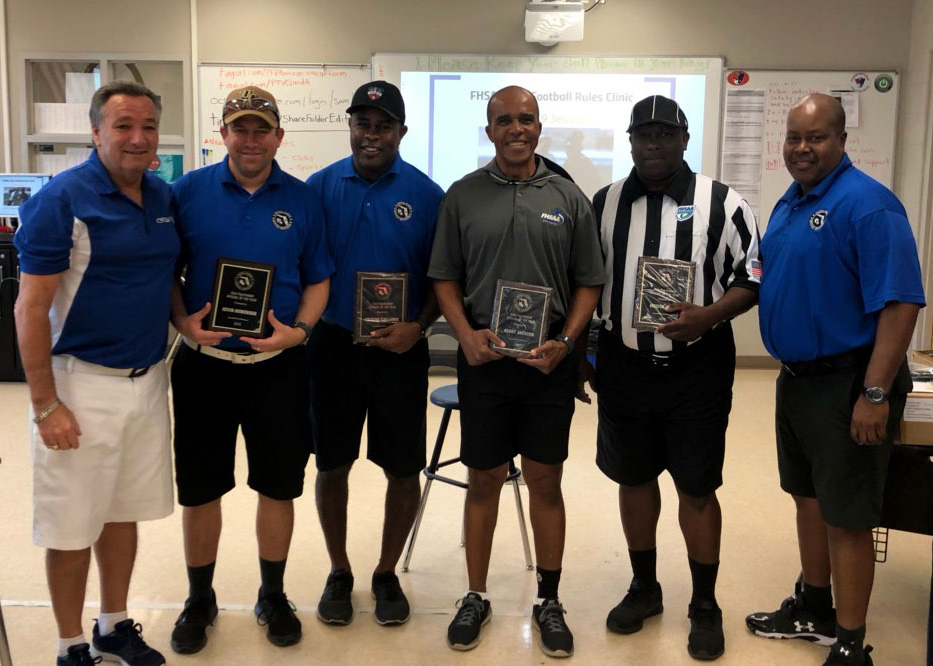 L-R: Allen Cramer, Kevin Bowersox, Erskine Callaway, Kerry Jackson, Melvin Jones and Jemal Taylor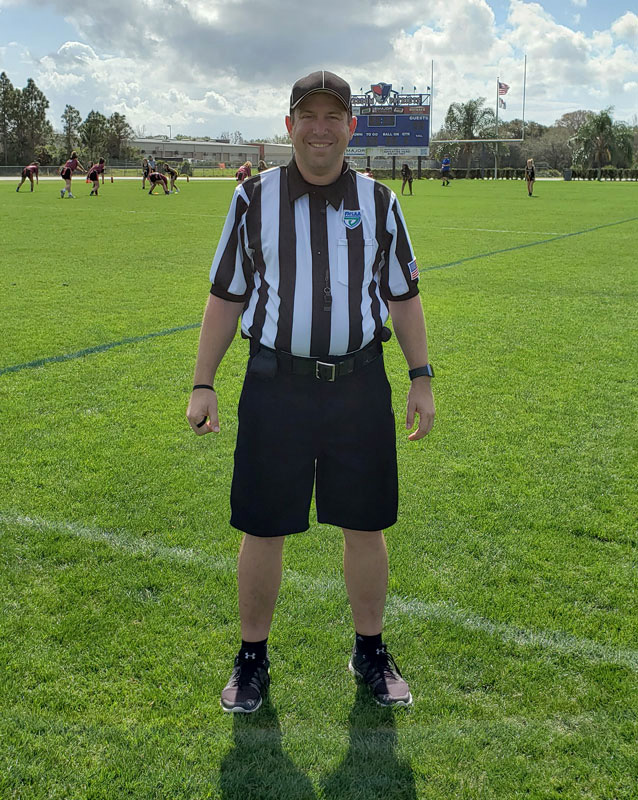 The CFOA Flag Football Uniform is as follows:
Black and White Referee Shirt with a Black Collar and FHSAA Patch on the Pocket and American Flag on the Left Sleeve -

2-inch striped shirt is MANDATORY for this season

All Black Coaches shorts with belt loops
Black and White Piped Hat
All Black Belt (leather)
Black Socks
Black Shoes
Penalty Flag (1 or 2)
Black Bean Bag
Two different color discs or cones (Orange - offense, Yellow - defense)
Game Card (Score, Unsportsmanlike Penalties)
Officials can contact Fred Collida from Purchase Officials to get the proper referee shirt. Call 954-439-9880 or go to PurchaseOfficials.com.
Thanks,
Kevin Bowersox
Previous Flag Football Announcements - Read before they are archived!:
FLAG FOOTBALL TIMELINE/KEY DATES
Initial Registration – 1/18/19
Last Day for Late Registration – 2/22/19
Exam Schedule 1/18/19 – 3/1/19
2/23/19 – Training Class – Freedom High School
Schedule – 8:15am to 8:30am - Registration
8:30 am to 10:00 am – Awards and Rules Presentation
10:15am to 12:15 pm – Field Work Live Action
12:30 pm – Lunch
IMPORTANT DATES
Preseason Classic Tournaments (Week 35) - February 25 - March 2
First Regular Season Playing Date (Week 36) – March 4
Calling for a Cure – MARCH 18 - 22 (

Pink Whistles

)
Last District Playing Date (Week 41) – April 13
Last Regular Season Playing Date (Week 49) – April 20
2019 Florida High School Flag Football State Championships
District Tournaments
When: Monday-Saturday, April 22-27, 2019
Regional Tournaments
Regional tournament semifinals on Thursday, May 2nd, 2019
Regional tournament finals on Monday, May 7th, 2019
Florida High School Flag Football State Championships
When: Saturday, May 11th, 2019
Where: TBD
Host: TBD
2018-19 Registration Deadlines
Initial Deadline

Last day to register
(Late fee goes into effect after this date)

FALL

FB, SW & VB

8/24

9/14

WINTER

BB, SC & WR

10/12

11/2

SPRING

BA, LX, SB, TR & WP

FFB

1/18

2/8

2/22 (FFB only)

2018-19 Exam Schedule

Rules exams have no time limit
No make-up exam offered.
Exams are created and written by the NFHS.
Officials can save and exit the exam as many times as necessary. Once the "submit exam" button is clicked your test will be graded and your one (1) attempt is completed.
Exams that are incomplete once the deadline passes will be graded as is.
Exam
50 questions

FB, SW & VB

8/10 – 9/21

BB, SC & WR

9/28 – 11/9

BA, LX, SB, TR & WP

1/4-2/15

FFB

1/18-3/1
*These dates are subject to change.
View older news