Central Florida Officials Association Tackle Football Information
Football Officials Training Classes
The 2019 New Football Officials Training classes will begin Monday, June 3rd and will meet each Monday and Thursday through July. Officials with 1 to 3 years experience and transfer officials are encouraged to attend the classes as well.

Time: 6 to 8 pm
Days: Monday and Thursday
Location: Lake Highland Prep HS

- Mitch Fazzio, VP of Football, CFOA
Job Well Done!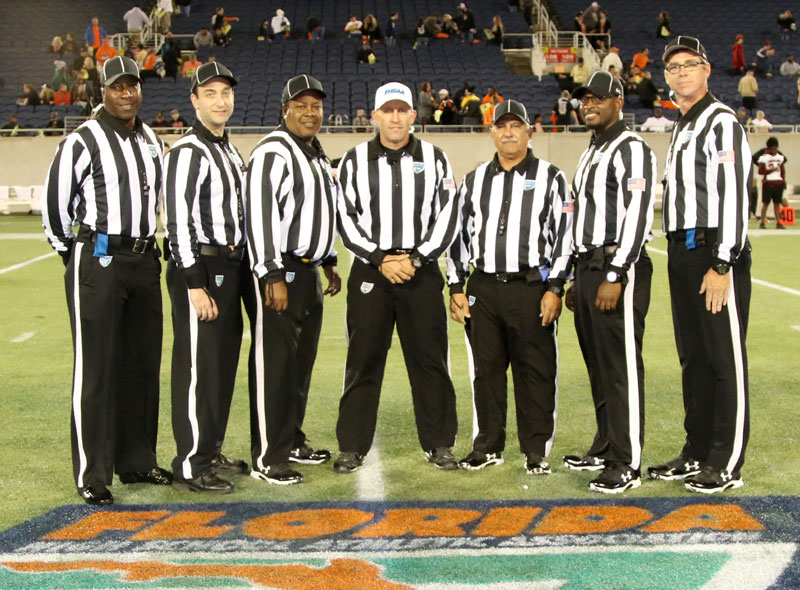 Class 7A State Football Championship Crew (left to right):
AJ Thomas, Zack Hiwiller, Jemal Taylor, Jason Carroll, Mitch Fazzio, Cory Fleming, Richard Mayor
not shown Kerry Jackson Game Clock Operator

The CFOA Football Uniform is as follows:
Black hat with White piping (Referee White Hat)
Black and White Referee shirt with a black collar and FHSAA patch on the pocket and American Flag on the left sleeve
All Black pants with a white stripe FHSAA patch on right pant leg
All black belt (leather)
Black Socks (Crew Socks - Mid Calf)
Black Shoes
Penalty Flag (1 or 2)
Black Bean Bag (if back judge blue and black bean bag)
Down Indicator
Game Card (score, Unsportsmanlike Penalties)
Coin (Referee)
Chain Clip (Linesman)
Watch (Back Judge, others optional)
Previous Football Announcements - Read before they are archived!:
At Large Director - Football
Good morning,

I received the below listed email Sunday afternoon 9/9/2018 just prior to our scheduled Board of Directors meeting:
Due to personal reasons I am resigning my position as football at Large.

Due to the timing of my resignation and to give our Vice President the assistance he needs, I am asking the previous at large member (Tom Brit) to step in until election time. (With your approval)

Thanks for letting me serve!

Melvin Jones
As the President it is my responsibility to ensure our association continues our business with minimal interruptions, therefore:

It is with regret that we must replace Melvin, however it is understandable. In reviewing the situation and the need; being mid-season, football in full swing and Tom's past experience as a; past member at large, his dedication to training, recommendation, evaluation and overall CFOA involvement and the need to fill the role as quick as possible with an experienced individual I concurred with Melvin and his recommendation. After discussion in the BOD meeting I appointed Tom Britt, the Board of Directors then approved that appointment.

Again we wish Melvin the best and Thank him for his service.

We also congratulate and appreciate Tom's willingness (and his experience) in accepting the appointment.

As an association please join me in wishing both individuals the best in support and understanding.

In your service,

Allen Cramer
President CFOA
Notice:
This is an illegal mouth piece: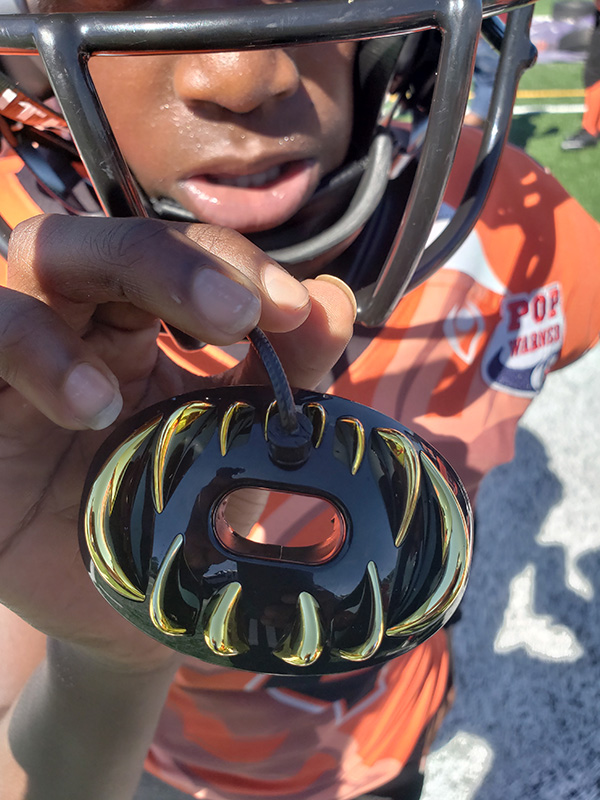 New Guidelines Posted
NFHS Lightning Guidelines - 2018-19 (PDF)
FHSAA Football Cancelled-Interrupted Contest Information 2018 (PDF)
Be sure to check out other officials information in the grey sidebar area of this page for more helpful documents. For other sports, check out the handbooks/downloads page.
Illegal Football Shoe per NFHS/FHSAA
Officials, please note the following football cleats are illegal per NFHS/FHSAA.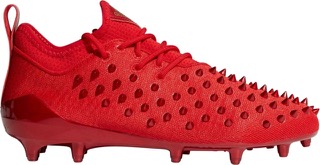 Adizero 5-Star 7.0 "Sundays Best" red spike cleat, article number CQ1271
Football Rules
Below are links to powerpoint presentations that Nick Brigati (who used to work in the CFOA several years back) created for each rule. Some have links to You Tube videos embedded in them.
Rule 10 https://docs.google.com/open?id=0B0BhuoIRi3hRTjRMNWVDcmo2dk0
Rule 9 https://docs.google.com/open?id=0B0BhuoIRi3hRLWNSdzdRUzE1d0E
Rule 8 https://docs.google.com/open?id=0B0BhuoIRi3hRT2JNWnlwb3FsZTg
Rule 7 https://docs.google.com/open?id=0B0BhuoIRi3hRUUtsYkd0aFBWWEk
Rule 6 https://docs.google.com/open?id=0B0BhuoIRi3hRZmU5MjhCTkZ4M0U
Rule 5 https://docs.google.com/open?id=0B0BhuoIRi3hRN2hzU1poMHNoTEk
Rule 4 https://docs.google.com/open?id=0B0BhuoIRi3hRSjFfMndYUk9xLVU
Rule 3 https://docs.google.com/open?id=0B0BhuoIRi3hRRzFnZ3YxOXhtWFk
Rule 2 https://docs.google.com/open?id=0B0BhuoIRi3hRNmVpa2xLRUk4MUU
Rule 1 https://docs.google.com/open?id=0B0BhuoIRi3hRMUhpVlB3Mk53Rjg
View older news