Featured Photos
Photos that feature or are of interest to our organization are posted here. If you would like to submit a photo or video, please contact the web developer for details on format and submission. All media must be approved prior to posting.
2019
Flag Football Officials of the Year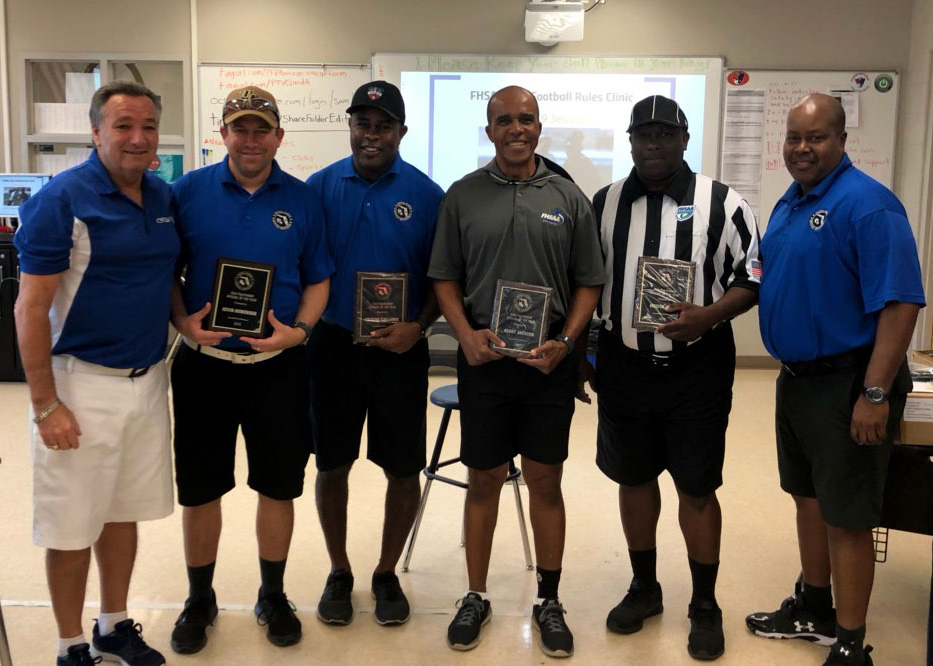 L-R: Allen Cramer, Kevin Bowersox, Erskine Callaway, Kerry Jackson, Melvin Jones and Jemal Taylor
2018
Whistles & Wings Recruiting Team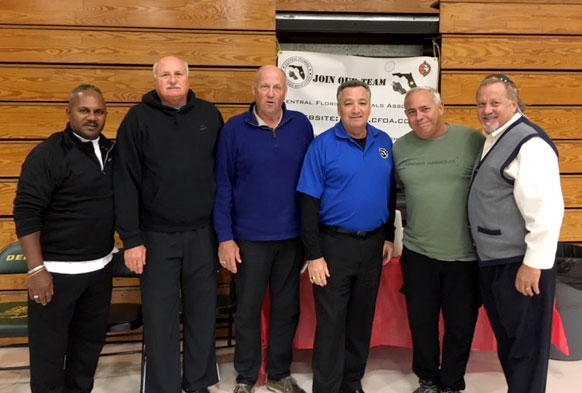 Keith Smith, Coach John Zeoli, Dave Jones, Retired NBA Official, Allen Cramer, President of CFOA, Rocky Sorice and Jon Marc Creighton donated their time and energy to fulfill their mission of Recruiting New Basketball Officials.

Deland High School was the inaugural site for Whistles & Wings - an opportunity to wet the appetite for Officiating.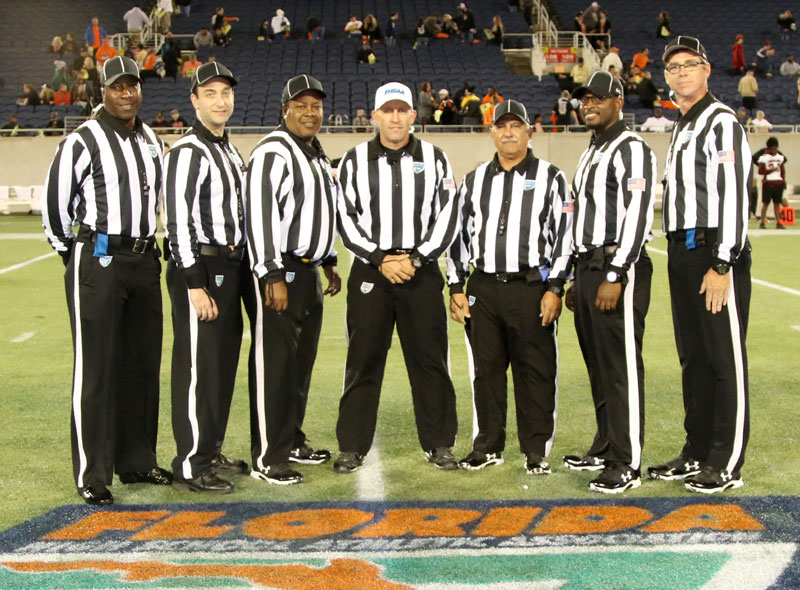 Class 7A State Football Championship Crew (left to right):
AJ Thomas, Zack Hiwiller, Jemal Taylor, Jason Carroll, Mitch Fazzio, Cory Fleming, Richard Mayor
not shown Kerry Jackson Game Clock Operator
2018 - 3A State Finals Volleyball Officials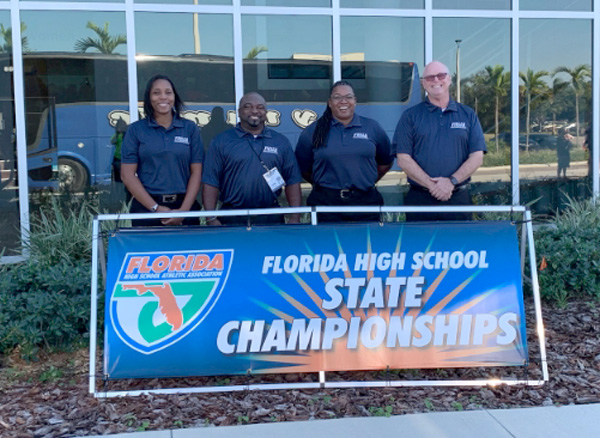 L to R: Chantal Williams, Tommie Butts, Tena Waters, Tom Hopkins
Basketball Officials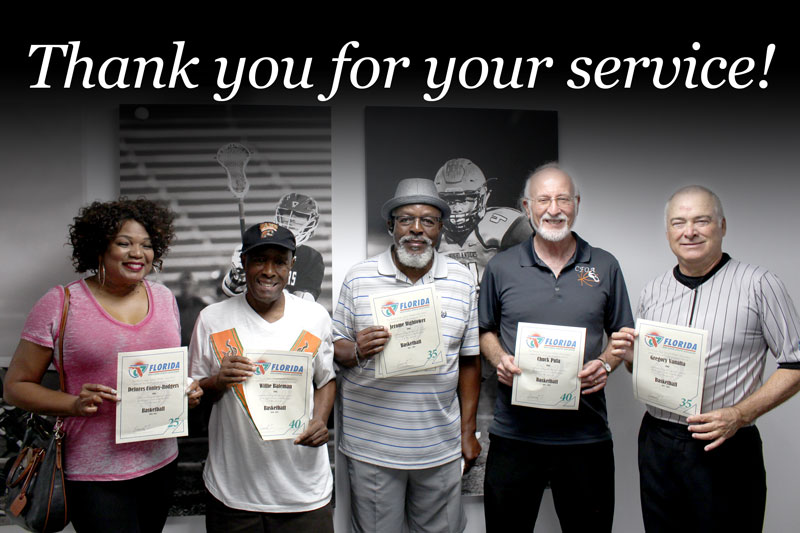 L to R: Delores Connelly, Willie Bateman, Gerome Hightower, Chuck Pula, Greg Vanatta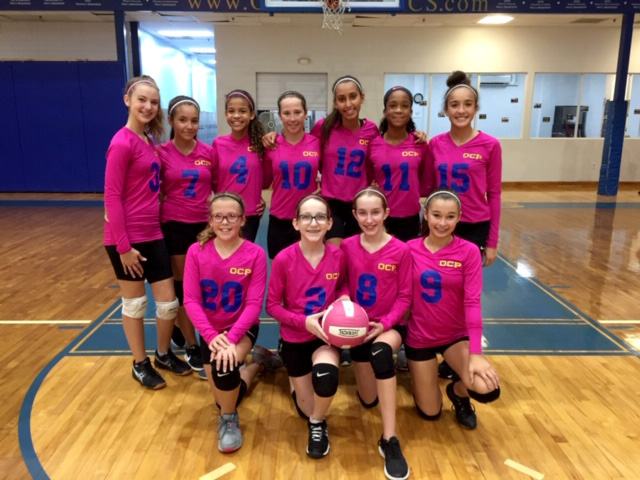 Orlando Christian Prep - Calling for a Cure - October 2018
The following photo is from the 911 Service Celebration at Minneola High School. Tom Hopkins and Karen Seifer are the officials.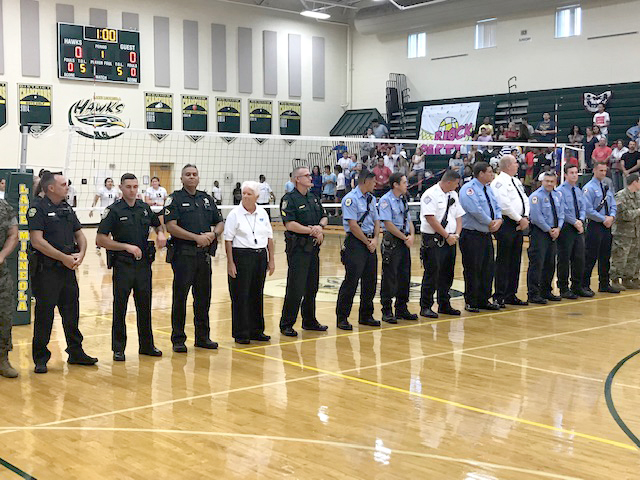 Hall of Fame Banquet - 2017 Inductees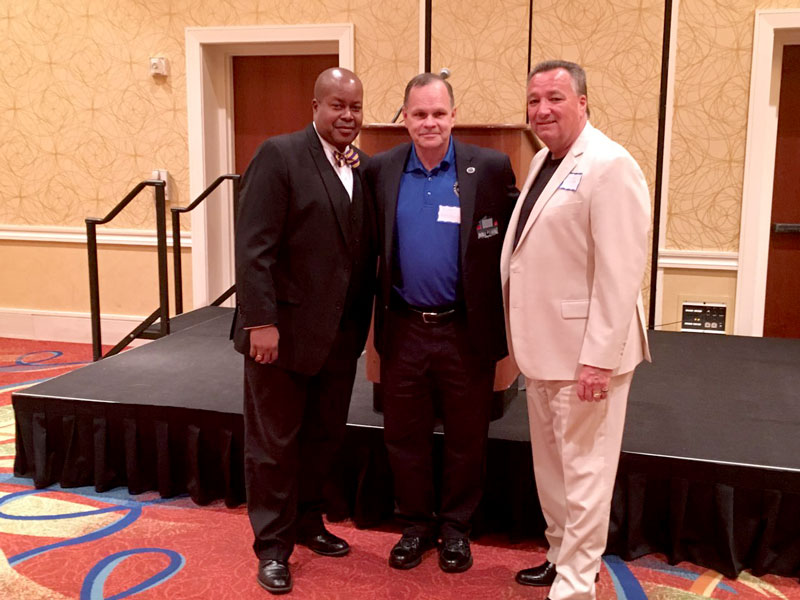 Kim Fessler (center)
pictured with Jemal Taylor (commissioner) and Allen Cramer (president)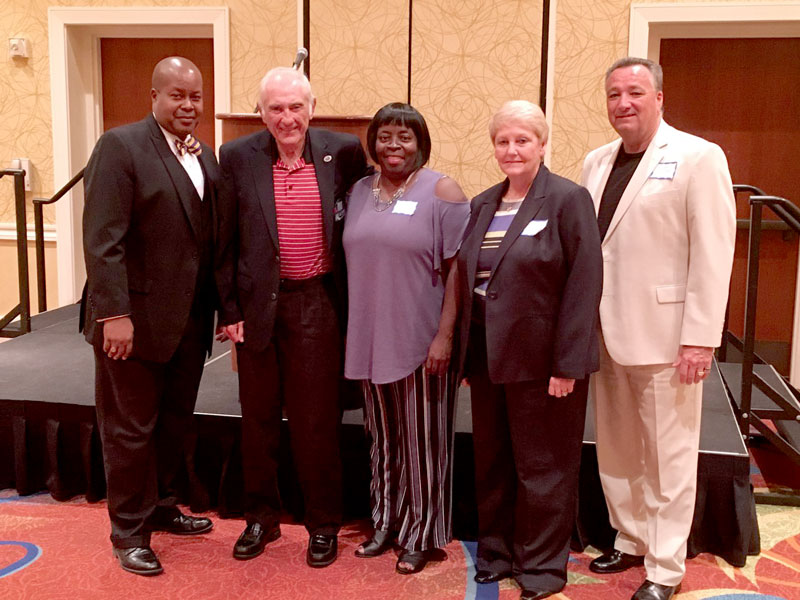 Rudy Tapia (second from left)
pictured with Jemal Taylor (commissioner), Elaine Dean (volleyball), Sue Nadeau (volleyball) and Allen Cramer (president)
2017: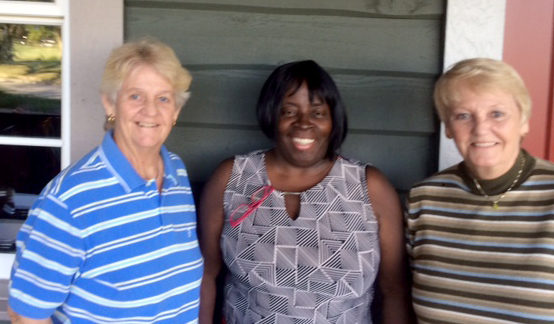 Working Hard for the CFOA Volleyball Members: Sandy Barnhill, Elaine Dean, Sue Nadeau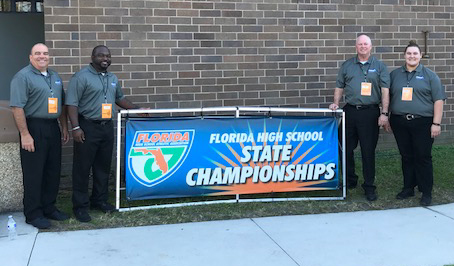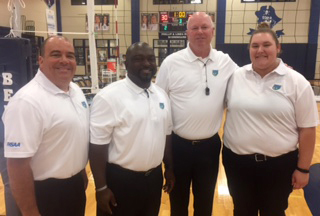 Officials that are working the 2017 Volleyball State Finals: Jesus Reyes, Tommie Butts, Tom Hopkins, Aubrey Muench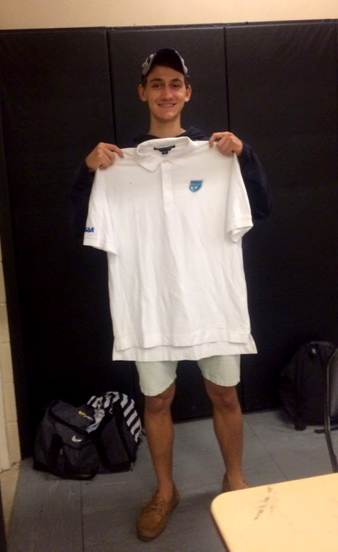 VB Rookie of the year—Riley Laughlin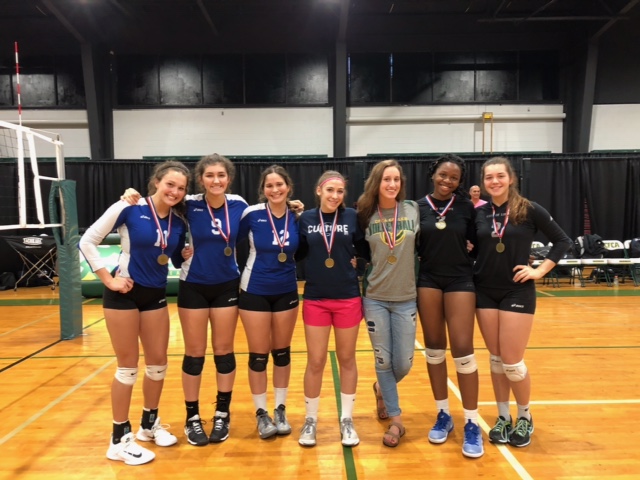 Top selected players from the 2A Districts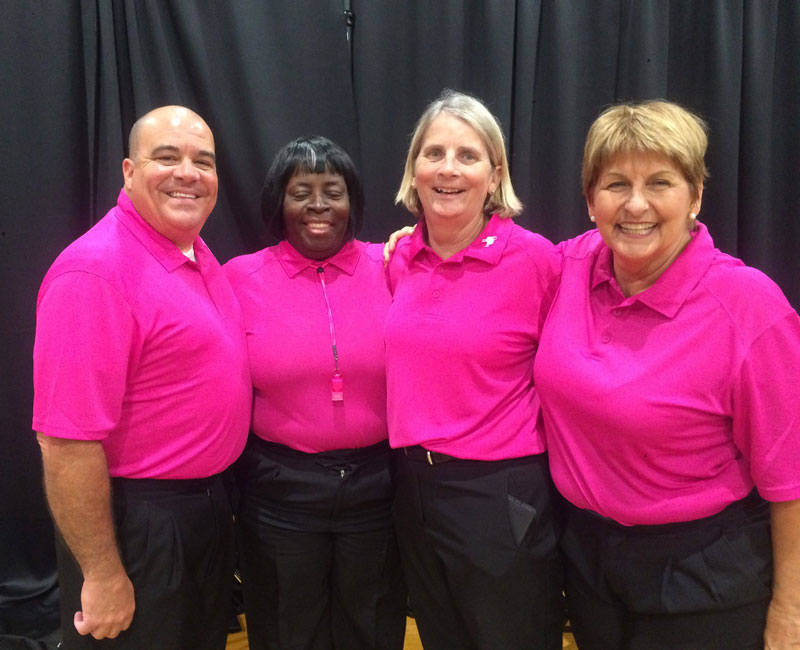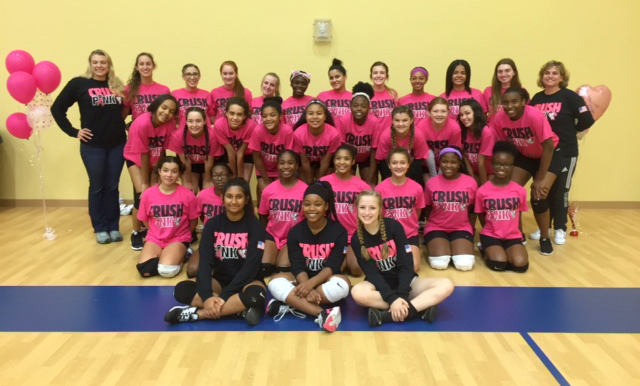 October 10, 2017 - Central Florida Christian Academy Middle School, Jr. Varsity and Varsity volleyball teams participated in Crush Cancer Night!!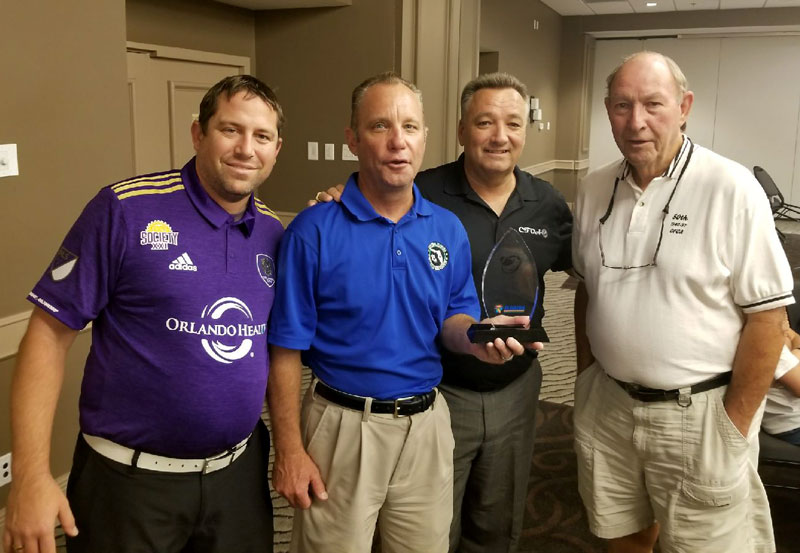 Congratulations Chuck Bauman FHSAA Flag Football Official of the year (August 5, 2017)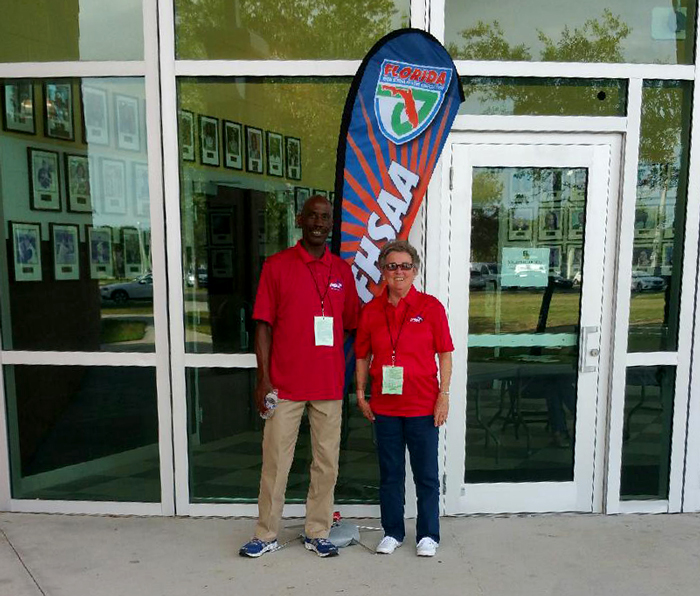 Officials Julius Tharpe and Sharon Gillespie worked the FHSAA Boys Volleyball State Finals May 5, 2017.
2016:
State Finals Basketball Crews
2015:
Volleyball Training Photos 2015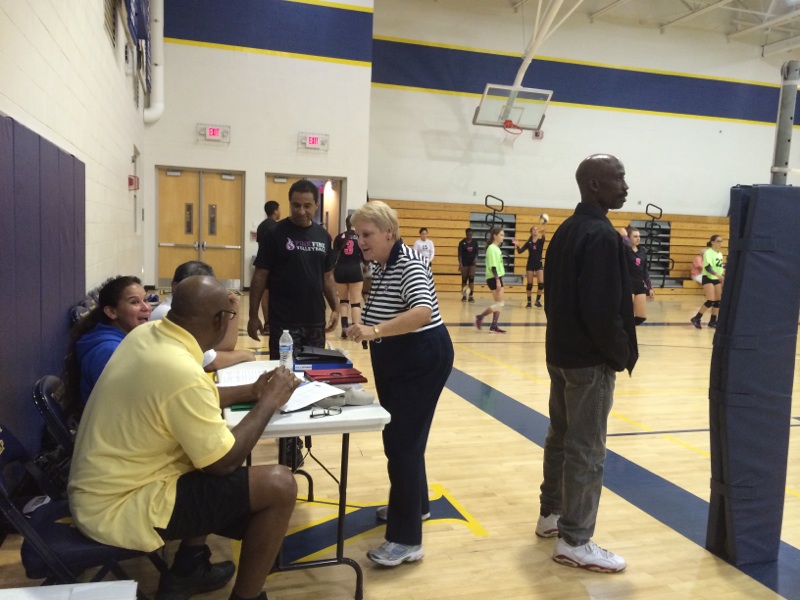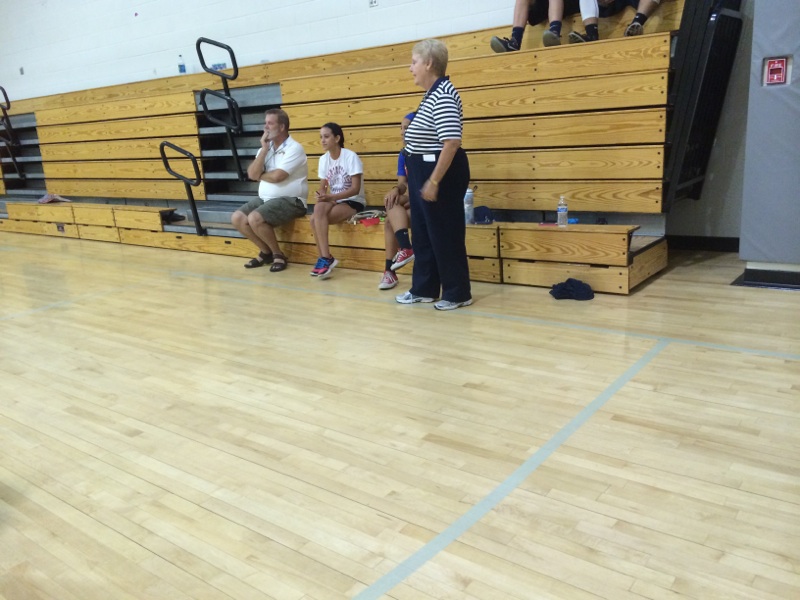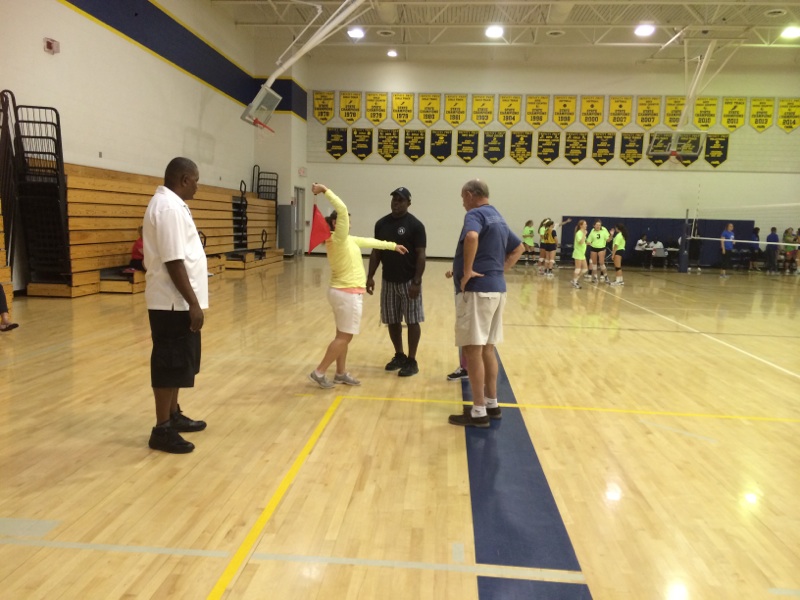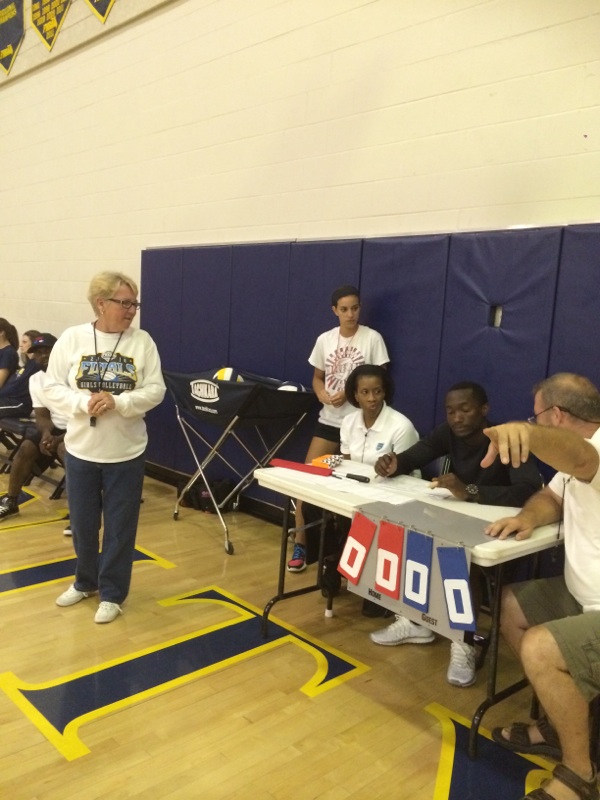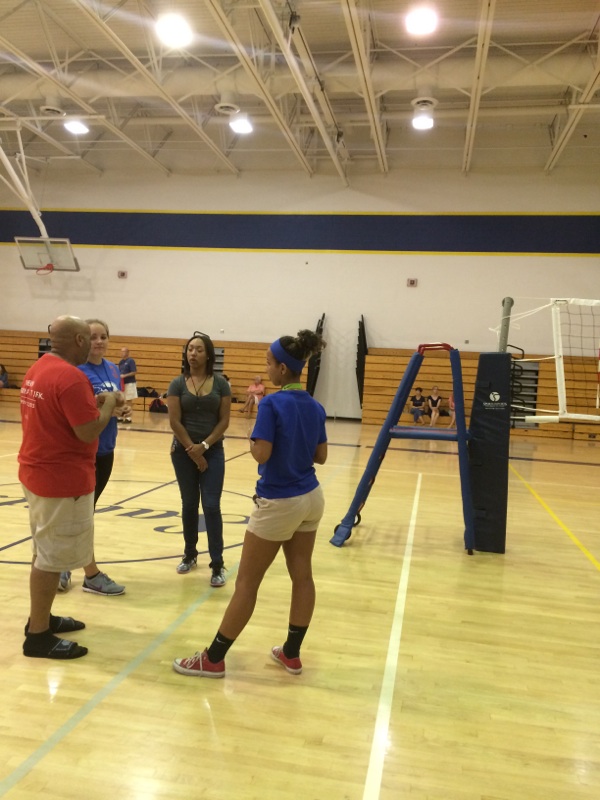 2014:
Burger King National Bowl Series Crew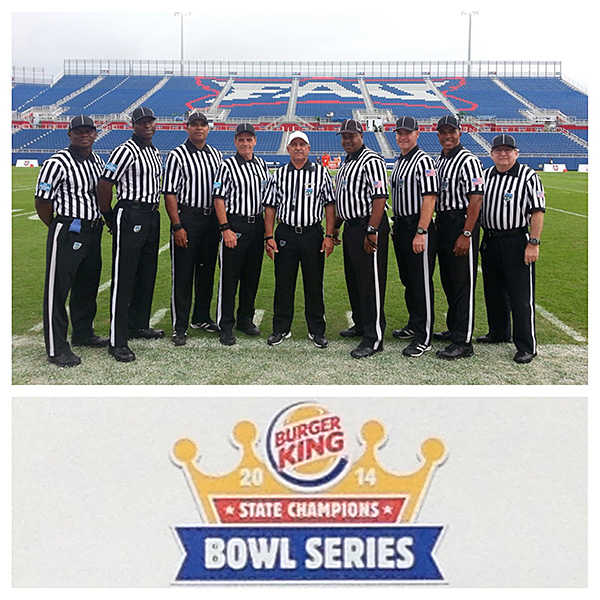 Referee: Mitch Fazzio
Umpire: Jemal Taylor
Linesman: A.J. Thomas
Line Judge: Kerry Jackson
Back Judge: Fred Smart
Field Judge: Chris Brown
Side Judge: Tra Blake
ECO: Jim Farrell
25 Sec.: Jason Vinson
2014 #1 Crew 6A Final
12-13-14: Miami Central VS Armwood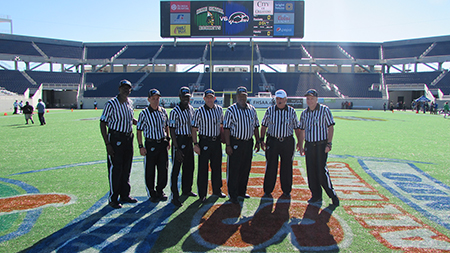 Jerry Prather, Fred Smart, Joe Prather, Jason Carroll, Jemal Taylor, Frank Scaletta, David Hoppey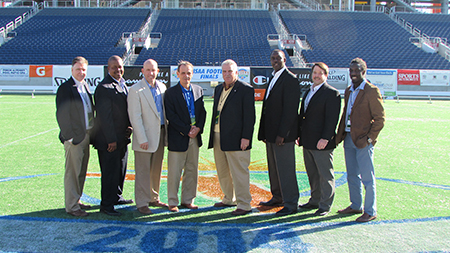 David Hoppey, Jemal Taylor, Jason Carroll, Fred Smart, Frank Scaletta, Jerry Prather, Jeff Allebach, Joe Prather
Other photos from this game can be viewed on Drop Box (not guaranteed link will remain open.)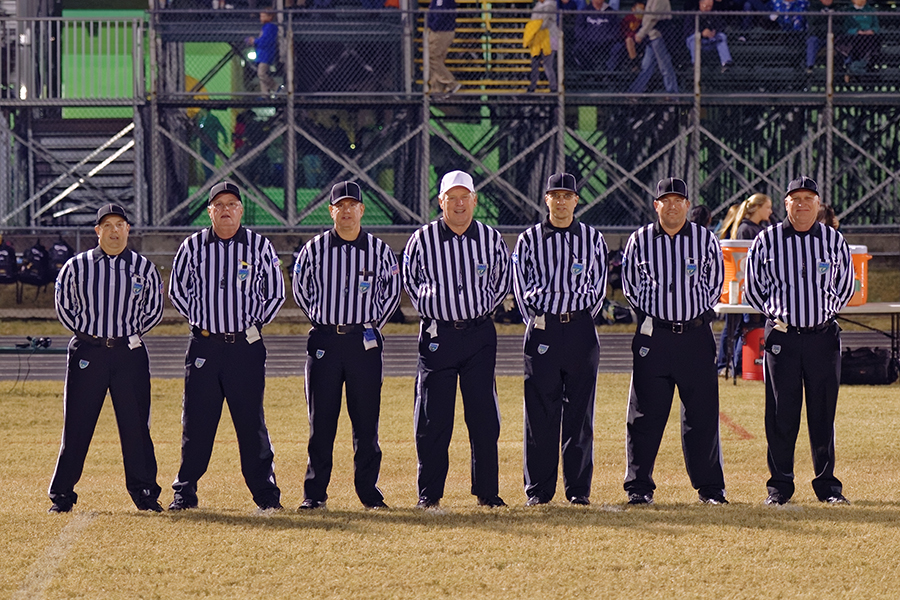 Friday, November 21st, 2014 - Holy Trinity vs Trinity Catholic
Don Trawick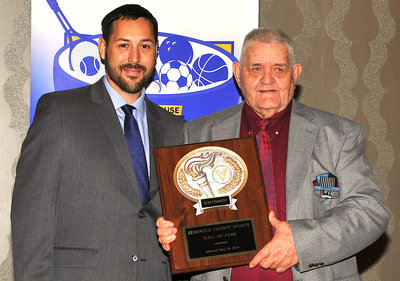 May 2014 - Longtime official Don Trawick
Elected to the Seminole County Sports Hall of Fame
FHSAA Basketball Finals 2013-14 Season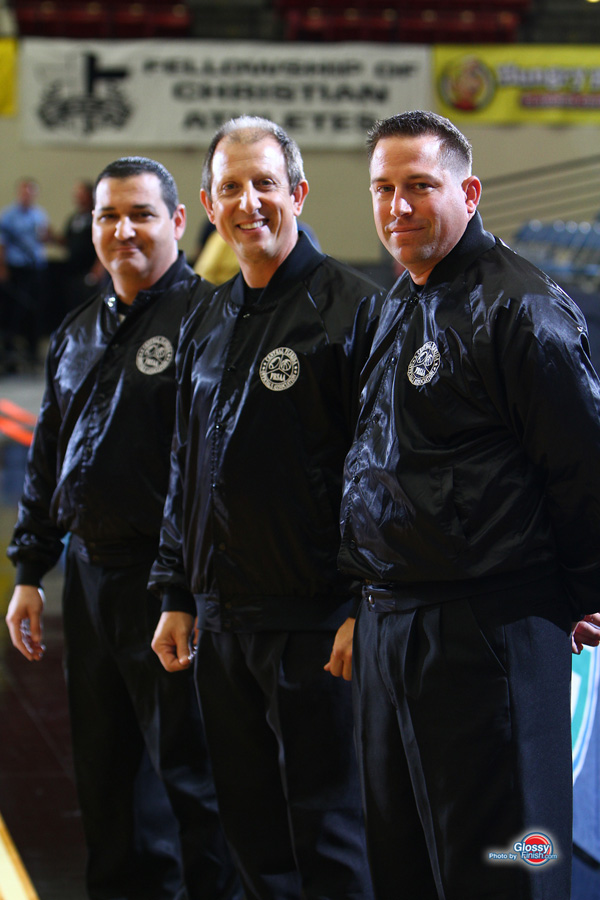 Anthony Hernadez, Frank Reindl and Kevin Bowersox represented the CFOA proudly working the Boys Basketball Tournament in Lakeland.
2013:
Dick Pace's Surprise 85th Birthday Party Photos
The photos in this slideshow are from Dick Pace's 85th surprise birthday party hosted by Sid Cash at Tradition's Bank June 2013.
There are 37 photos total. You may view these photos and a few more (larger size) on Shutterfly. Happy Birthday Dick!
Alan Buky Night
Orange Baseball Association hosted an Alan Buky night as part of the 1st Pitch Classic at Lake Mary High School Thursday Feb 7th, 2013. There was a double hitter and the ceremony took place prior to the start of the 7pm game. Lake Mary coach Alan Tuttle provided a BBQ chicken dinner with a portion of the proceeds going to the Buky family as well as the Diabetes Foundation. Orange Baseball Umpires DONATED their time and should be commended. Photos are from the ceremony.
Official Represents CFOA in Historic Game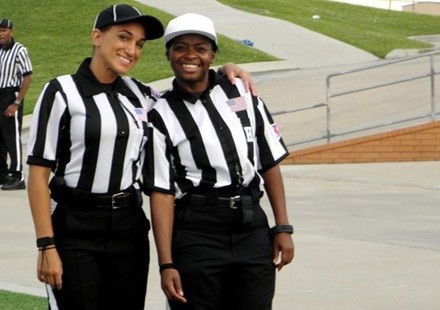 Krystle Apellaniz from Oviedo, FL represented the CFOA in the first majority female crew to officiate an SIAC game October 22, 2013.
Read the full story...
2012: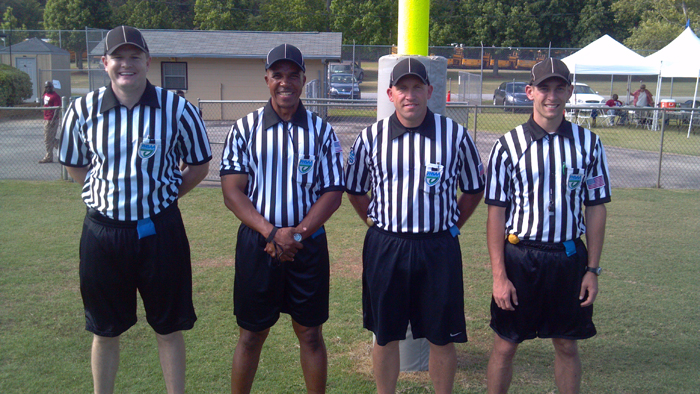 2012 1/4 final and semifinal game crew of flag football in Tallahassee
Referee: Jason Carol
Linesman: Joseph Wasco
Line judge: Anthony Kreitzer
Back judge: Kerry Jackson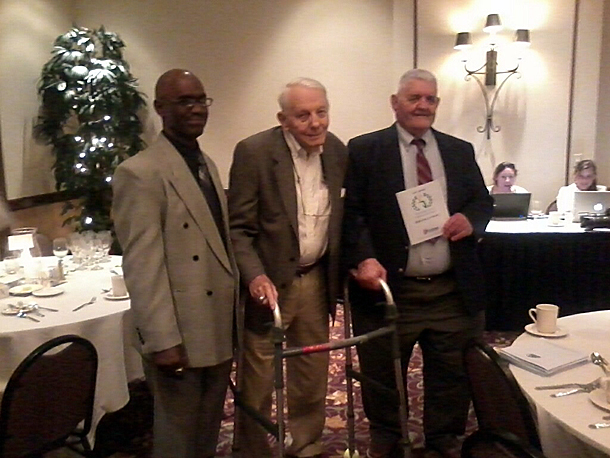 May 2012
CFOA is proud to be one of the only associations that have 3 members, Prince Pollard, Dick Pace and Don Trawick , in the FHSAA Hall of Fame! Click on each name to read their bios.
2012 FHSAA Basketball Championship in Lakeland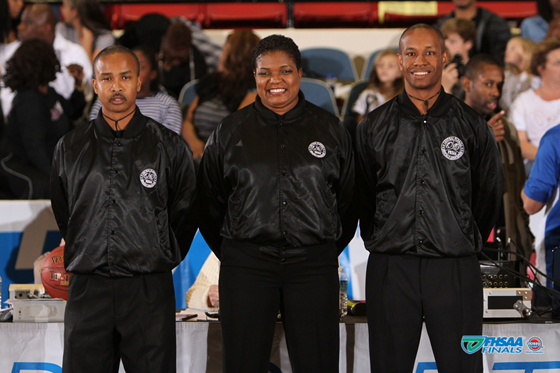 Adkins, Conley & Valentine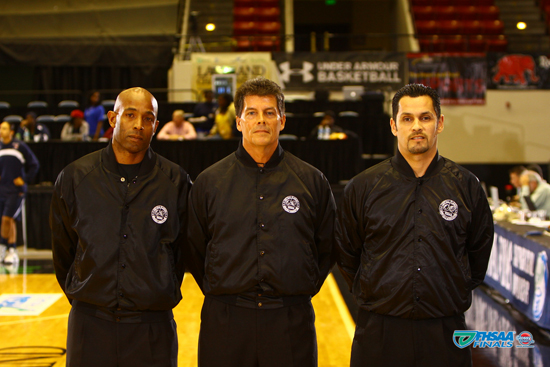 Brown, Campbell & Rossi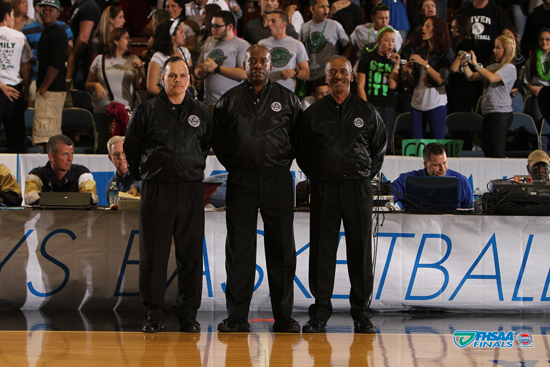 Kim, James & Chap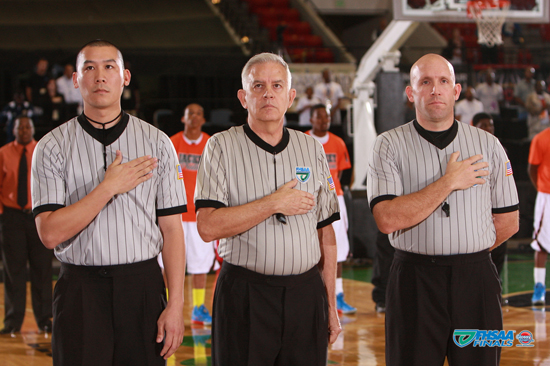 Ponn, Whitlow & Carroll
Boys Basketball 2012 5A Championship Game Crew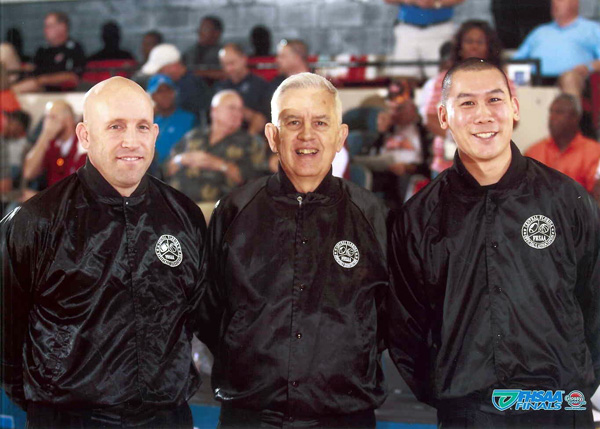 2011:
The annual meeting was held on May 14, 2011 at Lyman High School. Photos from this meeting are shown below.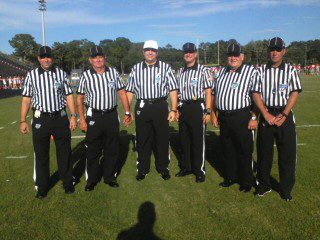 Lake Mary Crew 2011:
Referee - Jeff Deen; Umpire - Dan Heacock; Linesman - Kevin Bowersox
Line Judge - Chuck Baumann; Back Judge - Nick Peterson; Clock - Mike Goodspeed
2010:
2010 FHSAA Finals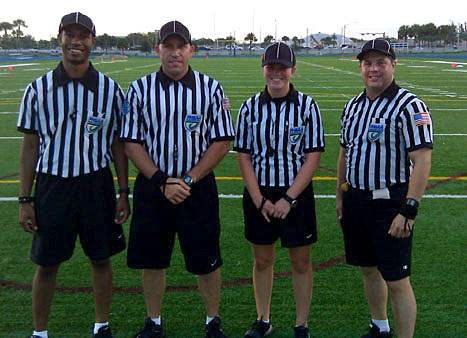 Congratulations to CFOA Crew #1 for Flag Football as they officiated the 2010 State Championship game between Seminole Ridge and Tampa Alonso. The crew consisted of Jason Carroll (R), Brian Valentine (LJ), Mike Gothelf (BJ), and Alexandra Prano (FJ). This was the 4th state championship game for the CFOA in Flag Football since 2005.