FHSAA board accepts Roger Dearing's resignation
By Rick Pedone
Sports Editor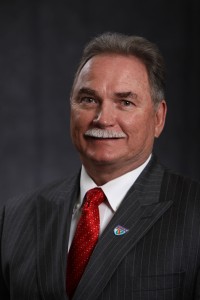 The Florida High School Athletic Association's Executive Director, Roger Dearing, announced recently that he is retiring after eight years as the FHSAA's leader.
Dearing, a former Osceola County assistant superintendent until 1993 and the St. Cloud High principal in 1984, took the FHSAA job in 2008 after serving as the superintendent of schools in Manatee County. Before that, he was the superintendent in Indian River County.
"I have nothing but gratitude when I reflect on my tenure," Dearing said in a prepared statement. "This position was the epitome of shaping young lives and my goal from day one was to do just that. Our achievements during my time at the FHSAA were founded on a commitment to build leaders through teamwork, sportsmanship and citizenship, and I am very proud of what we accomplished."
The FHSAA Board of Directors accepted Dearing's resignation during its meeting Tuesday.
The FHSAA will soon begin a national search for Dearing's replacement, who should be in place by next spring. Until then, Dearing will continue to serve as the executive director.
Dearing has led the organization through major changes as the Florida Legislature recently passed a bill that allows student athletes to participate at the school of their choice, regardless of where the students are zoned.
"With student-athletes having more choices than ever on where to participate, we must balance the right of choice with maintaining a level playing field for all," he said.
Under Dearing membership dues and participation fees have been slashed and championship payouts have increased. The association claims that member schools are $1.5 million better off annually than before Dearing's arrival.
Ryan Adams, the Osceola School District's athletics director, said Dearing has been a valuable resource to him and a good friend.
"He was in place when I came aboard as the county's athletics director, and he's been a huge mentor to me. His leadership to me has been invaluable," Adams said. "He has been very interested in hearing from the county ADs on the important issues that have come up. He listens when we have discussions about the changes in the bylaws, and you never feel like there are any behind the scenes things going on when you go up there to the FHSAA office. Everyone is very friendly and cooperative."
Adams said Dearing has lowered costs for the high school athletic programs.
"He has saved our schools a ton of money by lowering the membership fees," Adams said. "A lot of coaches get upset when they have to pay a fine for something, but that's usually because they are only seeing things from one side of it. Some of them don't understand that the school isn't paying the higher fees that it used to, to overall there is significant savings to the athletic programs."
Dearing broadened the visibility of the organization through corporate sponsorships and through partnership deals with Bright House Sports Network and the National Federation of High Scools Network.
Under Dearing, student-athlete participation is up 33 percent.
Dearing, 66, also made athletes' safety a priority and implemented a concussion protocol during his tenure.
Dearing said that he is concerned about sports specialization and he would like to see young athletes participate in more than one sport during their high school careers.
"Student-athletes have a life outside of school. You do not see as many two-sport and three-sport athletes as you use to see.
Someone playing only one sport year round presents a challenge to a school," he said.
Dearing, a former coach and teacher, replaced John Stewart as the executive director.
He has a 46-year history in education, said he is stepping down to spend more time with his family. Dearing's wife, Candace, was the Florida Teacher of the Year in 1987, when she taught in Osceola County.
"It has meant the world. It is a humbling experience looking back and reminiscing about all of the new people I have been fortunate enough to forge a bond with," he said. "I leave here in awe of the fact that everybody, whether we are in the business of private or public education, exist to positively impact children.
That is the most rewarding aspect of all of this."
Adams said that Dearing should be proud of his service as the executive director.
"It's tough when the only person you've known in that position leaves. It never felt like it was falling on deaf ears when you talked to him about any topic," Adams said.
"Being that he was from Osceola, I got to spend some time with him at various state events and that was always fun. He's done so much for the students over his career. It's nice that he and Candace will have a little time for themselves now, he's certainly earned that. Hopefully, they will find someone with the same passion and drive that he has."