FHSAA Considers Return of Cross-bracketed Playoffs
Enrollment growth in Osceola probably means district changes for its sports teams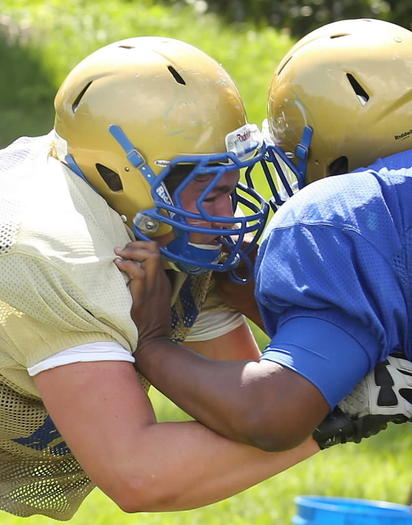 When the FHSAA reclassifies its sports districts this fall, Kissimmee Osceola likely will move into the state's highest class for several sports, including football. In this photo, Kowboys offensive lineman Parker Braun blocks during spring football practice. (photo credit: Stephen M. Dowell, Orlando Sentinel - July 30, 2014)
written by Buddy Collings
Read Buddy at SentinelVarsity.com and on Twitter at @VarsityBuddy.
1:30 p.m. EDT, July 30, 2014
The Florida High School Athletic Association soon will undergo the arduous task of realigning 682 member schools into sports districts for the 2015-16 school year and beyond.
FHSAA executive director Roger Dearing anticipates "minimal changes" and not as many challenges for the next rollout, because Florida's population boom has stabilized. The realignment will be based on school enrollment counts taken in October.
"There was so much growth in Florida in the early 2000s," Dearing said. "That's really leveled off. I believe Lake Minneola was the last public school to open [in 2011], and we don't have many new private-school members."In our continuing effort to offer constructive criticism and friendly advice, the Sentinel will unveil our outside-the-box alignment plan Saturday. Look for it in print and online (SentinelVarsity.com).
We know this going in: At least one area school district is experiencing growth. Osceola, with gobs of open acreage enticing homebuilders, is booming.
Osceola County athletic director Ryan Adams said Monday that after having zero schools play in the largest classification (8A) the past two years, his district could have multiple schools headed for that division.
Kissimmee neighbors Osceola and Gateway had 8A enrollment counts when the FHSAA last reclassified in the fall of 2012, but both were allowed to play in 7A to reduce travel and compete within the county. Now, they're even bigger.
"We're well aware that those two schools are going to move up to 8A, and there's no way around it," Adams said. "It was ideal to have seven of our schools in a district, but the numbers are going to balloon."
Celebration and St. Cloud are bursting at their seams. Harmony, which agreed to play up from 6A to 7A to play against its county neighbors for the 2013-14 and '14-15 school years, also is adding new classrooms.
"I've told some of our coaches to be prepared to go 8A in with Dr. Phillips and Freedom and other Orange County schools," Adams said. "I just don't see us being able to keep all of our schools together."
That's not good news in a county that has seen teams thrive in a format where rivalries are restored.
"When the enrollment numbers come out [in November], that's when the conversations will really take off," Adams said. "Everybody in the state will be crunching numbers and trying to figure out where they'll go."
Two significant alterations to the process are in place.
The FHSAA will switch to a four-year classification cycle after historically redrawing alignment every other year.
The other policy change approved by the board of directors scraps the 10 percent rule. That permitted the FHSAA to drop teams down a class to reduce travel if their student body count was within 10 percent of a cutoff number. For instance, the FHSAA granted a request two years ago to move New Smyrna Beach from a 7A football district with four Jacksonville-area schools into a 6A league with four Volusia County neighbors.
Phasing out the 10 percent rule gives the FHSAA more freedom to make those sensible decisions. After preliminary district assignments are announced, any school will be allowed to request changes based on "geographic isolation."
As it stands, Edgewater drives past half the schools in Orange County to go into Brevard for school-night district games at Palm Bay Heritage and Eau Gallie in basketball, baseball, girls volleyball and softball. It's worse in soccer, where the Eagles travel through Seminole County and Volusia to play Daytona Beach Seabreeze, Pierson Taylor and Palm Coast Matanzas, which sits 80 miles away. Those road trips reduce revenue, because fans are far less likely to tag along.
Reclassification indeed may be easier this time around, but FHSAA staffers are going to have to make some very difficult decisions.