Lakeland only bidder for FHSAA state basketball; negotiations on
Orlando Sentinel
Buddy Collings | Varsity Blog
Orlando Sentinel
1:35 PM EDT, July 18, 2014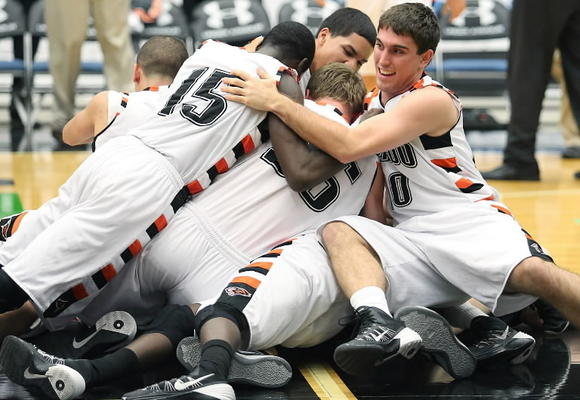 Photo by Stephen M. Dowell, Orlando Sentinel

Four months after all signs pointed to a divorce between the Florida High School Athletic Association and longtime state basketball tournament host Lakeland the two sides will be back at the negotiating table on Monday.
Lakeland, which has hosted state basketball for the past 19 seasons and 33 of the past 38, was the only city to submit a proposal to host the 2015 finals by Thursday – which was set as a second deadline by the association after Lakeland was the only initial bidder in June.
"Right now the only viable bid is Lakeland," FHSAA executive director Roger Dearing said. "It's disappointing. The only reason we didn't extend the agreement with Lakeland is that we had five cities that came to us and said next time you can open it up for bid, we're interested. For a variety of reasons, those cities did not submit."
Polk County athletic director Don Bridges said Lakeland's proposal to host includes a reduced guarantee to the FHSAA. The previous contract guaranteed the FHSAA the first $250,000 in ticket sales, which in recent seasons has meant all of the gate receipts. The Lakeland Center and host committee received parking revenue and a piece of concession sales.
"Basketball is not a money maker for anybody but the hotels, restaurants and gas stations, but we want to structure it so it's possible we can make something," Bridges said.
Dearing has said the FHSAA was not satisfied with its deal with Lakeland and hoped to reap a better contract going forward to assure its ability to reimburse competing teams for their travel expenses.
"We should know within a week to 10 days whether we're going to have a mutually satisfactory agreement. Hopefully, we can make it work.
"If we can't arrange some kind of deal with Lakeland, we'll start knocking on doors to see if we can find somebody else."
FHSAA finals site contracts are typically two years with an option to extend to a third year by mutual agreement.
The Lakeland Ledger reported last February that the FHSAA had soured on Lakeland as a host for state finals. It quoted Dearing as saying the organization feels it is "not welcomed" because Lakeland legislators pushed bills that reduced the association's authority.
Last month, Dearing told SentinelVarsity.com that Lakeland's bid will "certainly" be considered. He said at that time that he also expected to receive propsals from Jacksonville, Broward County and Tallahassee and had heard some talk about interest from Fort Myers and West Palm Beach.
Dearing said the BB&T Center in Sunrise was the potential Broward site but officials there told the FHSAA the Florida Panthers' 2015 National Hockey League schedule would not accommodate a two week window for basketball.
The two 32-team FHSAA tournaments are set to be played Feb. 17-21 and Feb. 24-28 with the girls going first. For gender equity reasons both tournaments are expected to continue to be played at the same venue.
Buddy Collings is a senior sports writer covering high schools for the Orlando Sentinel. You can reach him at bcollings@orlandosentinel.com.