Cutting the Ribbon
by Dean Smith Sanford Herald
08.27.14 - 01:50 am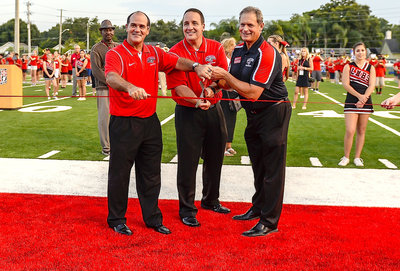 Herald photos by Romeo Guzman _ Lake Mary Athletic Director Doug Peters, Principal Michael Kotkin and Athletic Booster Club President Mark D'Agostino (1st photo, left to right) get ready to cut the ribbon to officially mark the opening of the refurbished Don T. Reynolds Stadium, specifically the new synthetic turf and scoreboard, prior to the start of the 2014 football season (2nd photo) with the Kickoff Classic against Mainland. Senior quarterback Cannon Thompson (No. 8, 3rd photo) tossed a pair of touchdown passes to fellow senior Nick Westbrook (No. 18, 4th photo), although this attempt was broken up, but the Buccaneers held on for a 35-30 victory.
Read more: Sanford Herald - Cutting the ribbon
LAKE MARY — Kickoff Classic night was definitely an interesting one for Seminole County prep football fans last Friday night.
Lake Mary High School got the evening off to a rousing start with a Ribbon Cutting Ceremony to unveil its new synthetic turf field and new scoreboard at Don T. Reynolds Stadium before large crowd with several members of the Seminole County Public Schools Administration and Board as well as the Lake Mary High School Athletic Booster Club, distinguished alumni and former administrators of the school on hand.
The turf and scoreboard are just the beginning of the refurbishment of Reynolds Stadium as a new synthetic track will be installed during the Winter Break, plus new paint and other amenities will be added to the stadium seating area.
Once the games began, there were some surprising results as teams that dominating during the Spring Games came up on the short end on this night, while teams that struggled in the Spring came up with big wins.