News Stories Posted to the Central Florida Officials Association Website
Listed here are various news stories that have been posted to the CFOA website. They are listed in reverse chronological order. Some stories may be out-dated. They are listed here and kept on our site for your reading pleasure and for reference only.
2018
Stories posted in 2018
College football: Change to kickoff rule recommended

Return teams could be allowed to fair catch kicks, start ensuing drive at 25-yard line. Read the entire story--»



2017
Stories posted in 2017...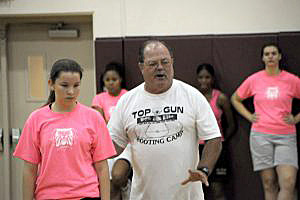 Tim McMullen, "Coach Mac" –

A 33-year coach at St. Cloud High, died of an apparent heart attack Tuesday afternoon May 9, 2017. Over the course of his long career at the high school, Tim coached boys and girls basketball, boys and girls cross country, boys and girls tennis and boys and girls track. His teams won more than three dozen Orange Belt Conference championships. He was named the M. Dean Cherry Award winner as Osceola County's Coach of the Year in 2005. To read more about Coach Mac, go to Around Osceola. Our thoughts and prayers go out to Polly and their 2 sons.



2016
Stories posted in 2016...
2015
Stories posted in 2015...
Miami high school game ends after gunshots heard in distance

The Associated Press  Published: November 21, 2015   |   Updated: November 21, 2015 at 11:20 AM

A high school football game in Miami ended early after gunshots were heard in the distance, sending players and coaches ducking for cover. Videos show terrified fans in the stands screaming and running to the exits when the gunshots were heard at Friday's game. Coaches told players to get down on the field.

Less than three minutes remained when stadium officials called the game between Miami Central and Miami Carol City high schools at Miami-Dade College North's campus. Central beat Carol City 26-8.

Miami-Dade Schools Police Officer Hilda Hernandez said three males have been arrested in the shooting. Authorities did not release what charges Larico Walker, Taion Lynch and Mark Trimble face or what prompted the shooting, but said they recovered three firearms.

Central football coach Ronald Smith said afterward, "You hate to see anything like that happen, but luckily it seems like no one was hurt."

The ACC releases statement about officiating at end of Miami-Duke game

The Atlantic Coast Conference put out the following press release on Sunday concerning the controversial ending to Saturday's Miami-Duke game in Durham.

School district investigates complaint against Pinellas Park coach

Rodney Page, Times Staff Writer
Thursday, October 22, 2015 2:55pm

Kenny Crawford says there is no merit to an investigation into a halftime incident between him and the St. Petersburg band. Pinellas Park football coach Kenny Crawford is being investigated by the Pinellas County Schools Office of Professional Standards after a halftime incident last week at St. Petersburg.

"I can say that the Pinellas Park coach is part of an ongoing investigation," said Lisa Wolf, public information officer for Pinellas County Schools. "We are in the process of gathering testimony about the incident, which involved the coach and the St. Petersburg band. We can't go into detail until the investigation is complete."

The two sides allegedly exchanged words after Pinellas Park players started stretching on the field while the band was still playing. According to Crawford, the band continued to play past its allotted time. Crawford, who has been the head coach of the Patriots six years, said he was asked to move his team closer to the end zone and he complied. "We didn't do anything wrong," he said. "We were asked to move and we moved. I'm not too worried about it."

Wolf did not have a timetable for the investigation's completion. St. Petersburg band director Cameron Vaadi declined to comment about the incident. Pinellas Park, which beat the Green Devils 20-8, plays at East Lake tonight. Crawford will be on the sidelines.

Florida Sporting News - 9/11/15 - Check out page 11 of the latest edition (issue 12) of Florida Sporting News. Michael Attardi wrote a great story about the CFOA and placed a FREE Ad in for our association. Click to view the online edition

Mike Bianchi - After assult in Texas, high-school refs should get combat pay


Click to read the scanned article in a new browser window.

All Sports - Eight Ways to Ruin Your Reputation

As an official all you have is your reputation. Screw it up and say goodbye to assignments and your career. Here are eight sure-fire ways to ruin what you worked so hard for. Read the entire article...

Girls basketball teams banned from postseason after throwing Game

By Sean d'Oliveira | CBSSports.com February 24, 2015 1:29 pm ET
Two high school girls basketball teams will not play in the postseason after allegedly throwing a game, reports WSMV-TV in Nashville. Both teams are being accused of intentionally trying to lose the game.
"I haven't seen this happen in the 20 years I've been here," Bernard Childress said, executive director of the Tennessee Secondary School Athletic Association. Smyrna High School was playing Riverdale High School on Saturday and the referee said players were intentionally committing turnovers, lane violations, slowed the pace of play and were even instructed to shoot in the opponent's basket.
Officials from the TSSAA said both teams were trying to lose to avoid playing powerhouse Blackman High School in the regional semifinal. David Sanders, whose daughter plays for Lincoln County High School, said he understood why the two teams were intentionally losing, but said it was wrong to throw the game."You should teach your kids to win the ball game and not to be dodging things in life," Sanders said.
Along with being banned from postseason play, the two high schools reportedly face a total of $1,500 fines each. They will also be on probation for the next school year.
Read the entire article --»

PD: Advisor slams teacher during basketball game at Holly Hill Elementary School

February 18, 2015 - The game was supposed to be a friendly game among students, teachers and staff at Holly Hill Elementary School.
Travis Mims, 27, and Katherine Martin were playing when Mims allegedly fouled Martin and became increasingly aggressive, according to the Holly Hill Police Department.
Surveillance video showed Mims pick up Martin by the waist and slam her to the ground. Police said she hit the basketball court head-first.
Surveillance video shows Mims, a school advisor, pick up Martin, a teacher, and throw her to the ground. Martin said she had substantial injuries. Investigators said Mims admitted throwing her because he said she pushed his face with her hands.
Mims was charged with aggravated battery. He was released from jail after posting a $2,500 bond.
Read the entire story including video: http://www.wesh.com/news/raw-video-basketball-game-leads-to-aggravated-battery-arrest/31348054