The 1st Five minutes mean everything
Thank you to Franz Beard from gatorcountry.com for allowing the CFOA permission to post this article
Franz Beard - Managing Editor | February 26, 2010 |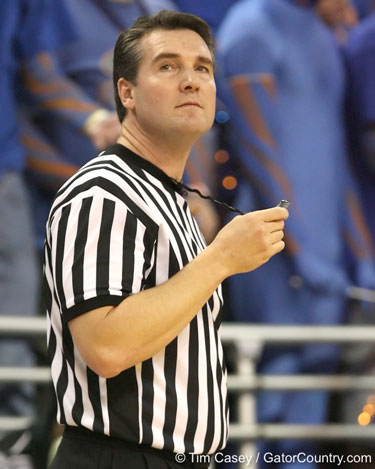 Referee Doug Shows watches the play during the Gators' game
against Tennessee on Tuesday at the O'Connell Center.
Gator Country photo by Tim Casey
The first five minutes of a game is everything to Doug Shows, one of the top tier officials in the Southeastern Conference. It is in that first five minutes that Shows tries to establish how he's going to call the game at both ends. If he does his job, he knows there will be fewer complaints from the coaches.
"There is no question that the coaches simply want the game to be called fairly --- what's good at one end of the floor is good at the other and what you call in the first half is consistent with what you call in the second half," said Shows, who worked last Tuesday night's Florida-Tennessee game in Gainesville and the Kentucky-South Carolina game in Lexington Thursday night. He's already worked 71 games this season including three Florida contests. He is scheduled to work today's Southeastern Conference matchup in Athens (4 p.m., Stegman Coliseum, SEC Network) where Florida (20-8, 9-4 SEC East) can move another step closer to an NCAA Tournament bid with a win over Georgia (12-14, 4-9 SEC East).
Shows says the quicker he or any other official can establish the game the way he's going to call it and then implement it at both ends of the floor, the more likely he will maintain control of the game.
"There is no question in my mind that if you establish what you're going to call and call it the same way at both ends of the court the entire game, the coaches are okay with that and the players are okay with it," Shows said. "Not everybody is going to be happy with every call, that's true, but if you're calling it in the 40th minute the same way you were calling it in the fifth minute, then that's something they live with and it's okay with them. What they can't stand is if you're all over the place and that is the one thing that you have to guard yourself against as an official."
Shows has called 14 Southeastern Conference games this season and he's also worked games in the Big East, Big 12, Conference USA, Sun Belt and SWAC. He has called 26 games involving top 25 teams this season, which ranks 15th among all Division I officials. He calls an average of 36 fouls per game, which ranks 67th. He has also called 37 technical fouls, which ranks him first among officials who have called at least 40 games this season.
The hardest part of the job, he says, is keeping up with players who get bigger, faster and stronger every single season.
"Officials will always be a little bit behind he player players," he said. "They're 18-19-20 ... we're older so they're always going to have a step on us so we have to work harder to get in good position to compensate for their speed and quickness. Every year their quickness and athleticism makes it harder for us to maintain our ability to make calls. We have to work hard during the season to keep up with the game and even harder in the offseason when we are preparing for the next season when we know the players will be better than they were the year before."
Offseason preparation means plenty of physical conditioning --- "You can't just work your way into shape ... you better stay in shape all year long," he said --- and working summer AAU events like the Nike Peach Jam in North Augusta, South Carolina where the Southeastern Conference officials do their summer clinic where young, inexperienced officials and new officials trying to break into the SEC get opportunities to call games.
It's at tournaments like the Peach Jam where new NCAA directives for officials are first tried out. In recent years, the NCAA has made it a point to try to clean up play in the post as well as eliminate some of the physical play on the perimeter.
"We have made a concerted effort the last few years as a point of emphasis, coming down from the NCAA and down through the conferences to address post play," Shows said. "We're working very hard as officials to maintain a level of consistency with the way we call things in the post. Additionally we've started doing more calling the game off the ball to ensure more freedom of movement for the cutters and to make sure the ball screens are legal.
"Those are points of emphasis in the last couple of years and I believe we have cleaned things up considerably although it's still a work in progress but nevertheless we are working very hard to get better consistency with our calls clean up post play that's illegal whether it's offense or for defense as well as off ball screens, holding and chucking the cutters. We're looking at those things off the ball and we're really trying to improve in those areas."
Every year the block-charge call gets debated and it seems more coaches are calling for the 4-foot (from the basket) arc, which the NBA uses to help officials make that call. In the NBA, if a defender gets his feet set outside the arc and if the defender is inside the act, the call is supposed to be a charge.
Shows admits it's not an easy call to make consistently, but he believes the toughest calls are determining possession when the ball goes out of bounds from under the basket.
"Everybody wants to think the block-charge is the hardest and most difficult to make but I think the most difficult are out of bounds calls, especially coming out of the paint," he said. "You've got a lot of bodies and a ball gets tipped and maybe all you see are a bunch of legs and it touches off one of those legs. Okay, whose leg was it if all you see is skin and socks and shoes? The ball might have gone off a fingertip or it's been deflected off someone's foot and it's like bang-bang. You see it and you've got a split second to decide and make a call and it's like bang bang. Also basket interference and goal tending are extremely tough because you see all these guys who jump are above the rim. Here you may have six or seven hands around the goal and we have to determine if the ball was on its downward flight, was in the cylinder or if it's basket interference, was the ball off the rim or still on it?"
Today's college basketball player hits the weight room, too, so there are plenty of players who are bigger and stronger than ever before. Shows says the standard rule when it involves big guys pushing and shoving in the paint is did someone gain an advantage?
"When you have two big guys who can handle the contact and both of them are shoving each other ... if there's no advantage gained why blow the whistle?" he asked. "When it comes to physical play, that has to be your measuring stick. If it isn't then you put yourself in danger of turning the game into a free throw shooting contest. You want to make the right call but you can call a foul on every trip down the floor. You have to use judgment and if one guy gets an advantage then you have to blow the whistle."
Experienced players often talk about how the game slows down for them the more they play. Shows says it's the same for officials.
"Essentially, officiating is a reaction to experience," he said. "I don't care if you're refereeing tennis, football or basketball it's all about the experience. If you go out there and you're working hard experience tells you if you look certain places you'll probably see certain things. If you do your homework and you see different levels of play and you watch yourself and the game on video, there's no question that you see things that alert you so next time you're calling a game, you can make the correct call. You have to rely on those things to help you slow the game down a bit so you can make better calls and make the game fair."