FHSAA Considers Return of Cross-bracketed Playoffs
No surprise: High-school transfer numbers are going through the roof
written by Buddy Collings, 2:09 p.m. EDT, July 2, 2014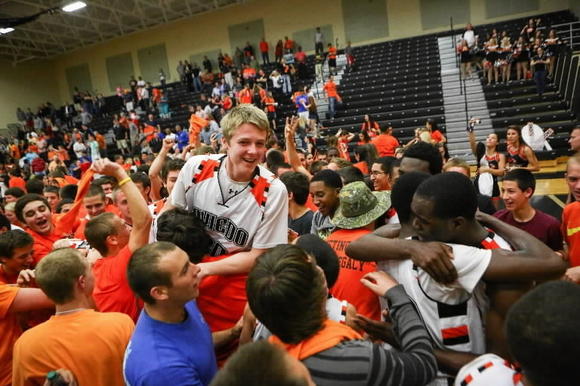 Fans celebrate Oviedo's victory against Wekiva in a Class 7A boys basketball region semifinal in February. The Lions went on to win the state title. (Photo: Joshua C. Cruey, Orlando Sentinel) (July 2, 2014)
Could cross-bracketing make a comeback?

Seven years after ditching a format that prevented district finalists from meeting in postseason rematches until region finals, the Florida High School Athletic Association is reconsidering the concept.

The FHSAA's soccer coaches advisory committee made a pitch that was endorsed by the athletic directors committee by a 9-0 vote in March and heard as a discussion item by the full board of directors in June.

"The board asked that we take it to each sports committee," FHSAA executive director Roger Dearingsaid. "They're looking at it.''

Too often in today's format, premier playoffs matchups pit district rivals against each other again in region semifinals, such as last season's fourth and final showdown between Class 7A boys basketball champion Oviedo and Wekiva.

Oviedo's 2013 girls soccer state-title team beat backyard rival Hagerty in a district final and then edged the Huskies 2-1 in overtime eight days later. Ideally, you'd have at least two playoff rounds between those rematches, not just one.

"You want to let the best two teams in a region go as far as possible," said Scott Waisanen, Oviedo's athletic director and girls soccer coach.

The only argument against is travel. If cross-bracketing were in place in the 2013-14 school year, Oviedo's 7A championship girls volleyball team might have had to make a 13-hour round trip to Niceville and then have eight hours of travel time to Tallahassee Chiles for a school-night region final three days later.

In the existing format, the Lions went to Chiles, but not to Niceville.

As long as the FHSAA uses its upcoming realignment to reduce travel for mandatory regular-season district play, which I believe is crucial, we can get behind adding some mileage to make playoffs more meaningful. Tweaking of region dates could keep loss of class time to a minimum.

FABC wants Lakeland in March

As we forecast earlier this week, the Florida Association of Basketball Coaches issued a position statement Tuesday in support of keeping the state basketball tournaments in Lakeland.

"Coaches were polled from Pensacola to Miami, and the great majority favor Lakeland because of the central location for travel purposes and the hospitality shown by the community itself," FABC executive director Jim Haleysaid in the release.

The FHSAA is soliciting proposals to host the girls and boys tournaments, set for consecutive weeks in February. That schedule is also a bone of contention for the FABC, which is pushing for seasons to be extended so girls and boys playoffs include some of the "March Madness" synonymous with basketball.

Last year, the only state that finished sooner than Florida's March 1 end date was Hawaii (Feb. 22).

Sign of the times

Spotted in DeLand: a roadside billboard, sponsored by Mainstreet Community Bank, paying tribute to recently retired Bulldogs boys basketball coach John Zeoli.

Extra points

Florida recruiting guru Larry Blustein estimates that about 160 football players in two counties, Miami-Dade and Broward, have switched high schools since December. It's now called "transfer season." Does that not say the free agency forced on the FHSAA by state legislators has gone overboard? . . .

Former Kissimmee Osceola football coach Ken Baker, who was on college staffs at Temple, Villanova and Syracuse before leading the Kowboys (1981-85), was inducted into the Bedford County Sports Hall of Fame in his home state of Pennsylvania last weekend. Baker compiled a 39-19 record in five seasons with the Kowboys (1981-85), including a 1982 state runner-up finish. For the past 28 years, he has been a realtor in Kissimmee. . . .

Oviedo grad Jenny (Barringer) Simpson has gone to Europe to join track and field's royalty after dominating Sunday's women's 1,500-meter race at the USA Outdoor Championships in Sacramento, Calif. The 2013 world silver medalist will race again at Saturday's IAAF Diamond League series meet in Paris. . . . Oak Ridge alum Barbara Pierre was the USA Outdoor runner-up in the women's 100. She trains in Tampa.