CFOA News & Announcements
The following posts are related directly to the CFOA. If you have an event, training, meeting notice, announcement (illnesses, deaths) specifically related to the Central Florida Officials Association and its members, that you would like posted here, please send the information to the CFOA president.
News Highlights - 2018
Congratulations to our 2017 Central Florida Officials Associations Hall of Fame inductees!
Bob Blair Jr.
Mitch Kinney
Wally Hough
Rudy Tapia
Kim Fessler
Please join us and welcome this years' Hall of Fame class
When: Saturday, May 19, 2018
Where: Marriott - 1501 International Parkway, Lake Mary, FL 32746
Time: Reception - noon │ Lunch 1:00pm │ Awards presentation
Attire: Business Casual (no shorts, tank tops, or t-shirts)
Tickets: Hall of Fame Members and Inductees - Free
CFOA members and invited guest are $25 per person
CFOA Football New Officials Training Classes 2018
5-2-2018
The CFOA New Officials Training Classes will be held at Lake Highland Prep School.
Lake Highland Preparatory School
901 N. Lake Highland Ave.
Orlando, FL 32803
The Classes will start Monday, June 4th and meet each Monday and Thursday through July from 6 – 8 pm. We will utilize both Classroom Rules study and On-Field Mechanics training. The class is open to new, transfer and CFOA members with 1 to 3 years of football experience. Please wear or bring workout clothing for each class. Remember we are on a high school campus so wear appropriate clothing; shirt, shorts & shoes. You will be required to have the following equipment for the class; Officials Hat (black with white stripes), Lanyard (black) & Black Fox 40 Whistle, Flag with black ball on the end, Black Bean Bag and Down Counter. You will able to order this from PurchaseOfficials.com. Fred from Purchase Officials will know what you need. We will give you additional information at the classes as to uniform requirements and other information about registration. Do not try and register with the FHSAA at this time.
If you have question you can contact me at mfazzio20@gmail.com or call 407-756-8323.
Thanks,
Mitch Fazzio
VP of Football, CFOA
Mark Your Calendars! Football Dates 2018
May 15th - 18th - Spring Games - 1" shirts full uniform
May 19th - CFOA Hall of Fame Lunch, Lake Mary Marriott Hotel
May 20th - CFOA Annual Meeting - Lake Highland Prep.
June 4th - August 2nd - New Officials Training Classes. Location TBD. Monday and Thursday Classes
August 3rd & 4th - CFOA/Mike Goodspeed Beach Weekend - Hilton Cocoa Beach Hotel
August 11th - CFOA/FHSAA Field Clinic. Site and times TBD. Full uniform with 2" shirts
August 15th - 18th - Classic Games. Full Uniform with 2" Shirts
August 22nd - First Regular Season Playing Date
November 9th, 16th, 23rd, 30th - Playoff Dates
December 6th, 7th & 8th - Championship Games - Camping World Stadium, Orlando

Thanks,
Mitch Fazzio
VP of Football, CFOA
It's that time of the year to celebrate and recognize those members of the CFOA and community that have demonstrated the highest standards of ethical conduct; moral character; professionalism in the community; service and leadership to our association.
Please join us for an afternoon of fun, laughter, camaraderie and food at the ….
Central Florida Officials Association
2018 Hall of Fame Banquet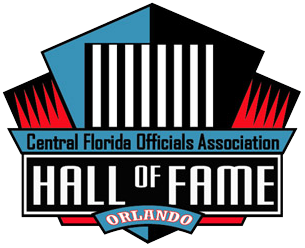 When: Saturday, May 19, 2018
Where: Marriott - 1501 International Parkway, Lake Mary, FL 32746
Time: Reception - Noon | Lunch 1:00pm | Awards Presentation
Attire: Business Casual (no shorts, tank tops or t-shirts)
Tickets: Hall of Fame Members and Inductees - Free | CFOA members and invited guests are $25 per person
RSVP by Saturday, May 12, 2018 so we may obtain an accurate count for the luncheon.
Jemal A. Taylor, Commissioner CFOA

President's Memo
The CFOA Annual Meeting & Elections will be held:
Date: Sunday, May 20, 2018.
Time: The meeting will begin at 2:00pm.
Location: Lake Highland Prep, 901 Highland Avenue, Orlando FL 32803
Please see the agenda, slate of candidates and discussion points listed below:
Agenda:
Welcome - Allen Cramer
Opening Prayer
CFOA Update - Allen Cramer

Membership
Game counts
Board Disclosures
Accomplishments / In Progress - Allen / VP's

Constitution / Bylaw Discussion - Allen Cramer
Budget / Vote - Jeff Deen
Elections - Jemal Taylor
Open Discussion / Other business - Allen Cramer
Conclusion - Allen Cramer
Board Positions:
Election 2018: This meeting
COMMISSIONER:
Jemal Taylor
Commissioner
Even Year / Unopposed
SECRETARY:
Roland Taylor
Secretary
Even Year / Unopposed
FOOTBALL:
Mitch Fazzio
Anthony Moore
Vice President
Even Year / Vote
Don Trawick
Chuck Bauman
Assignment Officer
Even Year / Vote
FLAG FOOTBALL:
Kevin Bowersox
Vice President Flag
Even Year / Unopposed
Don Trawick
Chuck Bauman
Assignment Officer Flag
Even Year / Vote
BASKETBALL:
Carl Blair
Carlos Childress
Vice President
Even Year / Vote
Kim Fessler
Xiomara Cruz
Assignment Officer
Even Year / Vote
VOLLEYBALL:
Elaine Dean
Vice President
Even Year / Unopposed
Sandy Barnhill
Assignment Officer
Even Year / Unopposed
Constitution/Bylaws Proposals:
Nothing at this time, if any information is sent for consideration we will notify as outlined in our Constitution/Bylaws.
Election 2019: Next Year
President / Treasurer / At Large Members
Additional Information:
The Hall of Fame Banquet is:
Date: May 19th
Time: 12:00-3:00 pm
Jemal will be sending an email and posting more details soon.
For specific questions regarding the banquet please contact Jemal Taylor
In your service,
Allen Cramer / Roland Taylor
President CFOA / Secretary CFOA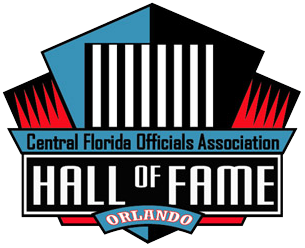 CFOA HALL OF FAME ELIGIBILITY REQUIREMENTS
A past or present member demonstrating the highest standards of ethical conduct, integrity, moral character, and professionalism in the community for past members and possibly having continuously performed distinguished service and leadership to the association, for current members in the Central Florida Officials Association.
In addition to years served nominee must have made a worthy physical and/or mental contribution to the Central Florida Officials Association during his time of membership. Longevity without significant contribution or achievements does not constitute credentials for consideration.
Nominee may be living or a deceased member.
Nominee must have served as a Central Florida Official Association Board Member, Officer, functioning committee post or directorship or some position of service such as Rules interpreter, or Sergeant at Arms, for example. Distinguished contributions by any member should be considered as eligible. The board category could be a point in a nominees favor if a tie vote is involved.
Nominee must have been a Central Florida Official Association member for a minimum of twenty (20) years. Consideration will be given for extenuating circumstances.
1. Non-Official nominees will be selected from individuals (i.e., Coaches, Athletic Directors, Principals, and Media) who have contributed to the Central Florida Officials Association.
2. Nominees should be considered based on their position and responsibility in the community as well as the effect that their service or contribution had on the improvement or development of goals and standards within the Central Florida Officials Association.
Nominations for inductee's must be submitted by:
1. A Central Florida Official Association Member, past or present, in good standing with the association.
2. The Hall of Fame Committee.
Please include:
1. Name
2. Sport(s)
3. Nominee years of services
4. How has the nominee impacted the Central Florida Officials Association
5. Describe how the nominee has made lasting contributions to his or her sport

Please submit your nominations to CFOA.Commissioner@gmail.com
Nominations will close Saturday, April 14, 2018 at 11:59PM
Sympathies

Our thoughts and prayers to the family of our brother official, Herb Huddleston.
- CFOA
Herb Huddleston Obituary:
Herb Huddleston, 66, died peacefully at home in Orlando on Easter Sunday April 1st at the end of his journey with cancer. Herb is survived by two children son Jason Huddleston his wife Shannon Huddleston and granddaughter Aubrey of Port. St. John FL.; daughter Alex Johnston and her husband Jacob Johnston of Lynchburg Va.; his brother John Huddleston of Melbourne FL; along with many dear friends.
Born Dec. 6, 1951 Herb grew up just outside Buffalo NY in North Tonawanda. He graduated from North Tonawanda High School in 1969. Herb was a lifelong fan of music the outdoors and cooking. He discovered his love of music at an early age and when he was old enough he attended rock 'n' roll shows at Melody Fair Theater of North Tonawanda where he volunteered to help the lighting expert work spotlights for concerts. Herb moved to Central Florida from California in the 1970s where he began making his mark as a swim coach. Herb was the aquatics coach for OMAC which later became GOAC then the Justus Dolfins. He was also the aquatics director at the Orlando Recreation Department. Several of his swimmers were zone champions in the 1980s a heyday for amateur swimming in the state.
After a successful coaching tenure Herb spent the next era of his career at the Orlando Sentinel as a process analyst in the circulation department. His forte was SQL databases. Managers and co-workers were amazed by his ability to work with numbers both on a spreadsheet and in his head. He earned a number of SQL Power BI Microsoft and SharePoint certifications and licenses as his career grew and technologies changed and progressed. His work helped shape many facets of automation at the paper. During his time at The Orlando Sentinel Herb gave back to area youth sports as a basketball referee for AAU middle school and high school games.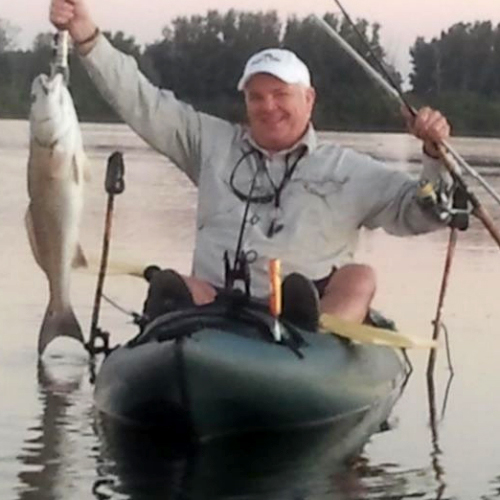 Outside of work Herb spent every spare moment at the Plaza Live or House of Blues for a live show, fishing in the Mosquito Lagoon or watching the Buffalo Bills on the big screen. In fact, after his cancer diagnosis he and his daughter, son-in-law and best friend traveled to Buffalo to see the Bills beat the Miami Dolphins at New Era Field. In January Herb went to Jacksonville to see Buffalo play in its first playoff game in 17 years. In Florida Herb found it easy to feed his hunger for the outdoors. He took his family and close friends on many fishing and kayak adventures patiently coaching them as they cast their lines and untangling them when things went awry. He successfully fished the salt waters of the Atlantic Ocean and Gulf of Mexico.
For Herb every day was a new adventure. He was most proud of his children his accomplished career and usually being "the oldest guy at a rock show". His fervor for life will be missed and admired by all who knew him. There will be a private memorial service. In lieu of flowers memorial donations may be given to the Fish and Wildlife Foundation of Florida, P.O. Box 11010, Tallahassee FL 32302.

From legacy.com

Sympathies
CFOA members thoughts and prayers are with VanAllen Berry a long time CFOA official as his mother recently passed away. Our thoughts / prayers are with you and your family. Posted: 3-29-18
2018 Volleyball Training Dates:
5/1 & 5/3 classroom
5/8 & 5/10 Court session
5/15 & 5/17
5/22 & 5/24
5/29 & 5/31
6-8 pm @ Trinity Prep
5700 Trinity Prep Ln., Winter Park, Fl 3279
6/5 & 6/7 Classroom wrap up
Registration fee for New Officials $20.00. Deadline for registration is 4/23/2018.
2018 Volleyball Meeting Dates:
Saturday—August 18,2018 8:00 @ Trinity Prep
5700 Trinity Prep Ln., Winter Park, Fl 3279
Sunday—September 23,2018 5pm @ St James Cathedral School
505 East Ridgewood St., Orlando, Fl
Sunday—October 14,2018. 5pm. @ St James Cathedral School
505 East Ridgewood St., Orlando, Fl
Elaine Dean
VP Volleyball
407.492.2110
To All Members,
As requested by a member in the past (and as we did) last year I am sending out an interest reminder.
This email is to remind any individual that is interested in being on the ballot to become a CFOA Board Member you must declare in writing to Roland (our secretary) before April 1, 2018. This allows us the opportunity to properly prepare the ballots for the Annual meeting scheduled TENTATIVELY on May 20, 2018 (more details to follow).
In accordance with our approved Constitution and By-laws voted on 2 years ago at the annual meeting the following positions are being elected this year (even year):
Commissioner
Vice Presidents
Assignment (Booking) Officers
Secretary
As a reminder next year (Odd year) President, Treasurer, At Large Member (each sport) will be voted on accordingly.
Again if you are interested in one of the positions in bold above please notify Roland in writing by April 1, 2018.
In your service,
Allen Cramer
President CFOA
February 21, 2018
Greetings,
This email is to inform all our officials' associations that the FHSAA has approved Broward County Schools to wear a memorial patch for the duration of the 2017-2018 season as well as for the 2018-2019 season.
Thanks,
Jeremy Hernandez
Assistant Director of Officials
FHSAA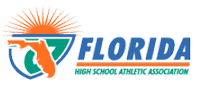 January 15, 2018
Spring Sports Registration Extended:
The FHSAA has extend the registration deadline for our Spring Sports until Friday, February 2, 2018 at 11:59pm. If you still need to register for a spring sport you can go to www.fhsaa.arbitersports.com, click on the "Registration" tab. The $10 late fee is now in place.

Spring Sports Exam Deadline:
The deadline to complete the exam for Spring Sports (Boys Lacrosse, Flag Football, Girls Lacrosse, Softball, Track & Field and Water Polo) is Friday, February 9th, 2018. To take the exam go to www.fhsaa.arbitersports.com, click on the "Test" tab. The review period for the exam will begin on Saturday, February 10th, 2018.

Thank you,
Kevin Bowersox
CFOA Flag Football Vice President

Sympathies
Diondre Campbell's father passed away this morning, January 6, 2018. The CFOA family offers its sympathy and prayers for the family during their loss.
Previously Posted News & Announcements...
For older posts, visit the News Archive...