Wally Hough
Posted on: May 22, 2018
2017 Hall of Fame Inductees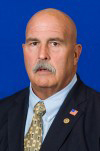 Wally Hough
Biography:
Born in Tampa and 3rd Generation to Graduate from H B Plant High School.
High School Football,
Played for Roland Acosta,
All-County, All-District, All-Western Conference (Captain), 4 All-American teams, Super 11 (captain, one of the best 11 offensive players in the Nation), Runner-up Amateur Athlete of the year, Scholar Athlete of the year, McNutt Award
Wrestling, 3 year lettered, 4th in the State. !976 AAU 5th in Nationals.
In 1977 signed with the University of Florida to play football. Lettered 4 years. While at Florida, started at every down position on both sides of the ball.
August 1986 Tampa Tribune 25 year All-Star Team, 1st team.
In 2009 inducted into the Tampa Plant Football Hall of Fame
Moved to Palatka in 1988.
1989 joined the Central Florida Officials Association.

In 1995 was chosen by Bobby Gaston (supervisor of officials for the SEC, Birmingham, Al) to Officiate Football in the SEC. Worked post season games, 2003 Alamo Bowl (Colorado vs. Wisconsin), 2004 Insight.com Bowl (Notre Dame vs. Washington), 2005 Liberty Bowl (Tulsa vs. Fresno State), 2007 Armed Forces Bowl (Air Force vs. Navy), 2009 Rose Bowl (Penn State vs. Southern Cal),
2010 Alamo Bowl (Michigan State vs. Texas Tech), 2010 SEC Championship Game
(South Carolina vs. Auburn), 2011 Holiday Bow (Texas vs. California), 2012 Belk Bowl (Duke vs. Cincinnati), 2013 (Colorado State vs. Washington State), 2014 Sun Bowl (Arizona State vs. Duke), 2015 Holiday Bowl (USC vs. Wisconsin), 2016 Heart of Dallas Bowl (Army vs. North Texas), 2017 Alamo Bowl (Stanford vs. TCU)
Own and operate Swamp Critter Taste Co. A catering business specializing in Outdoor Southern Cuisine and Bar-B-Q
Married to former Ms Renee Adkins for 25 years, son William Adkins, daughter Lydia Hough.