Charles William Smith (Bill, C.W., C. William)
Posted on: March 22nd, 2011
2011 Hall of Fame Inductees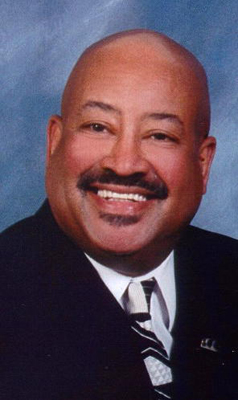 Being a member of the CFOA has been like being a member of a great family. There have been ups and downs and moments of pulling together to get things done. There have been many joys, such as dressing at the motels, watching news sports highlights on TV and going out for BBQ until 2 or 3am, and then doing little league or Pop Warner football on Saturday mornings. There was the support of the CFOA while being unemployed and the joy and support of working "the Big Games." It doesn't take 300 words to express the love and joy of being a member of the CFOA. It is something that cannot be expressed in words. It is an unforgettable life-time experience.
Biography:
Personal Information: Married to Norma for 49 years with 2 children and 11 grandchildren
Place of Birth: New York, N.Y.
Current Location: Orlando, FL
Occupation(s):
Retired Project Manager, Computer Specialist, Youth Sports Coordinator, Computer Manager, Computer Programmer, Computer Operator, Letter Carrier
Central Florida Officials Association Member: 31 Years in CFOA from 1980 to Present
Other Associations:
1987 to 1998: US Amateur Softball Association
1980 to 1998: Orlando Amateur Softball Association
1982 to 1989: Central Florida Track Officials
Current: Florida High School Athletic Association
Personal Accomplishments in the CFOA:
1990 Received Superior Rating as a Football Official
1991 Received Superior Rating as a Basketball Official
2000 Awarded 20 years of service
2005 Awarded 25 years of service
My son Ted became an official in 1985, and I had the pleasure of working with him for a couple of years until he joined the army.
Office/Position(s) Held in the CFOA:
Area Director, Vice President of Education 1988-1990, Vice President of Basketball 2003-2004
Personal Accomplishments in Other Associations:
1989 – Present
Official Scorekeeper – Orlando Magic
NBA All Star Game 1992
All Magic playoff games
Missed a total of 2 games since 1989

1990 – Present


Scoreboard Operator – Orlando Predators
Missed a total of 4 Games since 1990
Worked all Arena Bowl Games held in Orlando

1980 – 1998


Member of U. S./Orlando Amateur Softball Association
1984 – Orlando's Amateur Softball Association's "Mr. Hustle" Award
1987 – 1989 Selected to 3 National Tournaments
1988 & 1989 Worked the Championship Game
1989 – Inducted into the ASA National Indicator Fraternity
1995 – Inducted into the ASA Orlando's Hall of Honor
Many Local, State, and Regional Qualifying Tournaments

1992 – 1999


Official Scorekeeper – Orlando Cubs and Orlando O'Rays

1991 – 1995


City of Orlando Youth Sports Coordinator
Football Program
Basketball Program (Martin Luther King Tournaments/Florida Youth Basketball Tournaments-Local/District/State)
Track Program (Hershey Qualifying Meet/Local, District)
Assisted with the State Baseball Program
1994 – Inception year of Jackie Robinson League

1982 – 1989


Member Central Florida Track Officials Club
Timed many district, regional, and state meets
Head timer in state meets in 1987 – 1989
Head Timer Golden South Meet 1987-1988 – Winter Park, Florida
Head timer for National Masters Track Meet – Orlando Florida
Head timer for the Red Lobster Half Marathon – Orlando, Florida
Florida Relays – Gainesville, Florida
Junior Olympics – Clearwater, Florida
SEC Indoor Championships – Gainesville, Florida

1977 – 1980


Member New Jersey North Board #33
Basketball Official
Member U.S./New Jersey Amateur Softball Association
Softball Umpire

1972 – 1979


East Orange Youth In Action
Bowling Coach – Richmond, Virginia 1978
Detroit, Michigan 1979
Basketball Assistant Coach
1975 Small Fry Tournament – Puerto Rico
1972 – 1977 Little Lad National Tournaments – Heightstown, N. J.
1975 Little Lad National Champions – Heightstown, N.J. (Head Coach)
U.S. Youth team defeated the Junior Russian Team – South Orange, N. J.

1973 – 1977


East Orange Panthers Youth Football Coach
1975 State Youth Football Champs
Buddy Young Football League – New York City, N.Y.
Played in Washington D.C. Invitational
1963 – 1967
East Orange Tigers Youth Football Coach
Undefeated season 1964
Had players that went on to: University of Southern California/Idaho University/Cincinnati University/Bethune Cookman College and many others
Sports Officiated:
Football
Basketball
Softball
Track
Play-off games officiated (District, Regional, State):
1986 – Worked the 1A State Football Championship
2000 – Worked the 5A State Football Championship Game
2008 - Worked the 5A State Football Championship Game
Many district and regional football playoffs
1991 – Worked the 5A Girls State Semi-final basketball game in Tallahassee, Florida
Many district and regional basketball playoffs