Central Florida Officials Association Basketball Information
If you would like to become a CFOA Basketball Official, please read our Recruit Registration information. We look forward to having you on our team!
A user name and password is now required to view the Basketball Members News page. Members will be contacted with a user name and password. If you are a member and cannot log in, request a user name and password by sending an email to vpbasketball@cfoa.com.
CFOA Basketball Officials Training Classes
Tentative plans classroom sessions to start in August and on the court training in September.
CFOA Basketball Training
Before you can register for the CFOA training class, the following pre-requisites must be met:
Must be fingerprinted per Jessica Lunsford act (any questions contact the CFOA Secretary - Roland Taylor)
New, transfer and non CFOA members must pay a $60 registration fee which goes toward NHFS rule book.
Everyone will need to purchase a Rules by Topic 2019-2020 edition which can be found on Amazon
CFOA members must pay a $20 registration fee which includes a NHFS rule book.
Class Will be limited to 30 participants for first year Students
All returning 2nd year student are required to attend
Transfer official must attend during the first two weeks to be evaluated and attend classroom session
John Thomas - CFOA Basketball Official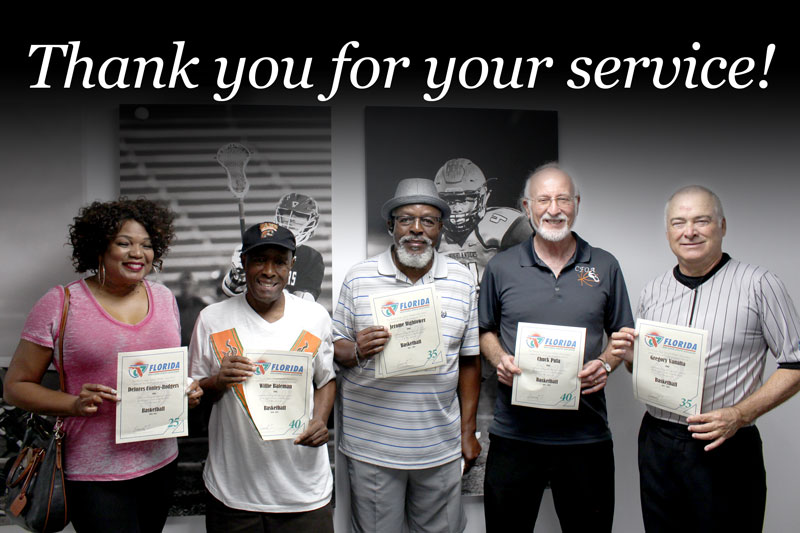 L to R: Delores Connelly, Willie Bateman, Gerome Hightower, Chuck Pula, Greg Vanatta
News and Announcements for Members
Members, please read other news and announcements on the Basketball Membership page.