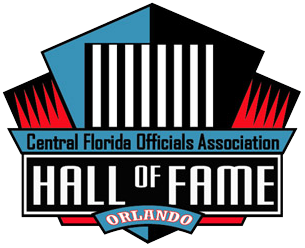 The following individuals are the new inductees into the CFOA Hall of Fame!
Rodney Clevenger - Basketball/Football
Cecil Moore
Kent Lowe - Basketball/Volleyball
Mitch Fazzio - Football
Andy and Candi Powell - Football
Roy Ellison - Football
Sharon Goodspeed - Everything
Congratulate them at the
CFOA Hall of Fame Banquet
May 13 at 6:00 pm
at the Kissimmee Bay Golf Club
2801 Kissimmee Bay Blvd., Kissimmee FL 34744
Kissimmee Bay has offered CFOA members $15 for a 9-hole round of golf or $20 for a 18-hole round of golf that afternoon at either one of their courses.

Central Florida Officials Association
Who We Are
The Central Florida Officials Association was formed in 1947 to provide officials for interscholastic sport programs of Central Florida. There are nearly 300 officials in the CFOA that are certified by the Florida High School Athletics Association (FHSAA) and scheduled for games at various schools throughout Central Florida. The CFOA services schools located in the Orlando metropolitan area and within a geographic area surrounded by Volusia, Osceola, Seminole and Lake counties. Read more --»
How to Join
If you are a new official or transferring to the area, please fill out the Recruitment Form and a member of the CFOA will contact you. Once we have your information, we will give you details on how to register with the CFOA, FHSAA, and any pertinent dates for upcoming seasons. There are several steps to becoming a high school sports official with the CFOA and FHSAA. Read more --»
Returning CFOA Officials
If you are a veteran official, please update your FHSAA membership and verify your information with CFOA. See details --»
Cooler Talk:
Find out what's happening around the officiating world and related sports. Send any articles of interest to Jeff Deen.

CFOA Historical Items Needed
The CFOA is in the process of collecting historical items like old patches, equipment, pictures, letters, articles, etc. The intent is to have a simple CFOA historical display to be present at the annual meeting, banquet, beach week, and special training sessions (meetings). CFOA members and others will be able to observe and know more about CFOA history in sports officiating.
If you have any interesting items that may be historical regarding the CFOA or officiating, contact Chuck Pula at 386-333-9393 or e-mail.
Previously Posted Stories & Notes of Interest...
For older topics discussed around the CFOA cooler, visit the News Article Index --»
For announcements pertaining to CFOA members, visit the Member News Page --»