CFOA Member Update
#6
Safety Update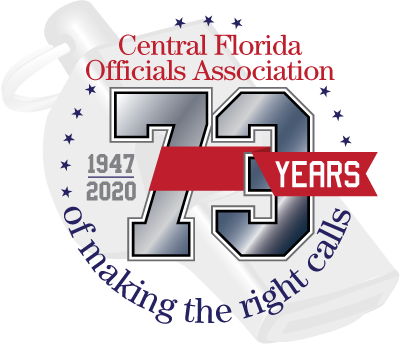 Central Florida Officials Association
Who We Are
The Central Florida Officials Association was formed in 1947 to provide officials for interscholastic sport programs of Central Florida. There are over 350 officials in the CFOA that are certified by the Florida High School Athletics Association (FHSAA) and scheduled for games at various schools throughout Central Florida. The CFOA services schools located in the Orlando metropolitan area and within a geographic area surrounded by Volusia, Osceola, Seminole and Lake counties. Read more --»
How to Join
If you are a new official or transferring to the area, please fill out the Recruitment Form and a member of the CFOA will contact you. Once we have your information, we will give you details on how to register with the CFOA, FHSAA, and any pertinent dates for upcoming seasons. There are several steps to becoming a high school sports official with the CFOA and FHSAA. Read more --»
Returning CFOA Officials
If you are a veteran official, please update your FHSAA membership and verify your information with CFOA. See details --»
About the Central Florida Officials Association
The Central Florida Officials Association was formed in 1947 to provide officials for the interscholastic football and basketball programs of Central Florida. There are over 350 officials in the CFOA that are certified by the Florida High School Athletics Association (FHSAA) and who will be scheduled for games at various schools during this year's football and basketball season. The classification of the schools within the CFOA service area range from 1A to 6A, and the majority of the schools have full varsity, junior varsity and freshman programs in football and both boys and girls basketball. Girls Flag Football began in 2005 with 12 schools and has grown each year.
The CFOA services schools located in the Orlando metropolitan area and within a geographic area surrounded by Volusia, Osceola, Seminole, and Lake counties.
The CFOA is proud of its members and alumni whose officiating accomplishments include the National Football League, six college football conferences and numerous college / junior college basketball and the NBA conferences.